Thank You to Our Loyal Customers and Vendors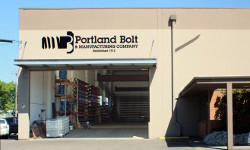 Twelve months ago, who could have believed the challenges that 2020 would bring? As an essential business, we feel extremely fortunate that we were able to remain fully operational throughout the past year. We are thankful that you have trusted us to partner with you through these trying times.
We are sensitive to the fact that many of our customers, vendors, and business associates have faced significant obstacles this past year due to the pandemic. With improved therapeutics and multiple vaccines currently being deployed, we are hopeful that 2021 will bring increased optimism and a return to normal business practices. We look forward to working with you and contributing to your success on projects in 2021.
2020 Highlights
In 2020, we added a band saw and a new chamfering machine to create a dedicated all thread rod processing station that will allow us to be more responsive to processing and galvanizing (when necessary) all thread rod and fully threaded stud orders.
We invested in a TAB WRAPPER TORNADO Orbital Stretch Wrap Machine that secures loads of fasteners to wooden pallets with a protective layer of film, providing improved stability and protection for our shipments.
In 2020, we hired a new Salesperson, Donnie Coulson, and a Manufacturing Engineer, Cory Ellingboe. Donnie brings an eagerness to learn the sales and estimating role, while Cory provides us with the ability to improve processes in our manufacturing facility and introduce new product lines.
Our IT Guru, Sarah Kemp, completed an overhaul of our sales and estimating system, moving us from an IBM mainframe that has served us well for the past 30 years, to a customized Windows-based program that she designed and implemented from the ground up.
Finally, 2020 marked the 20th anniversary of Raul Carrisoza, our Sales Order Facilitator. Raul joined 14 other Portland Bolt employees with over 20 years of tenure with our company.
2021 Planned Projects
Among projects planned for 2021 is an investment in new bar code scanning and data collection equipment to improve our tracking of orders through our manufacturing facility, improve estimating accuracy, and improve the accuracy with which we pull and track inventory. We plan to add equipment that will allow us to forge heads onto extremely heavy bolts and expand our swedging capabilities. We also intend to once again manufacture boat spikes which we stopped making shortly after the acquisition of Northwest Bolt in 1995.
We are currently planning to hire two inside salespeople in the spring of 2021 to join our team. Do you think you have what it takes to excel as a salesperson with one of the leading fastener manufacturers in the United States? If so, we want to hear from you! This sales position also requires cost estimating and account management.
To learn more about this entry-level position and to receive consideration, please follow the submission instructions on the Careers Page of our website.
2020 – Year in Review
In 2020, we continued to build upon what we feel is the most comprehensive construction fastener website in the industry. We explained that all thread rod is manufactured to a Class 1 thread tolerance, and we discussed the reason Portland Bolt ships exact quantities instead of the +/- 10% practice employed by many manufacturers. The FAQ section of our website provides a wealth of technical fastener information explained in layperson's terms. 2021 promises to deliver even more new content.
Each year we endeavor to improve and expand the educational content we provide relating to construction fasteners. In 2020 we added 7 new frequently asked questions, and 27 new featured projects.
In 2020, our team answered 7 new Frequently Asked Questions, bringing the total number of FAQs in the most comprehensive technical construction fastener database found online to an incredible 357! These common questions asked of our sales team explain technical aspects of the construction fastener industry so they can be understood by anyone from an experienced engineer to a purchasing agent who rarely buys bolts.
The most popular FAQs in 2020 were:
In 2020, our sales team added 27 project summaries to the 357 total projects featured on our website. Coincidently, that is the same number of FAQs on our website. These featured projects contain a description of the project, location, a summary of the bolts we manufactured for the project, and photographs from before, during, or after construction.
These write-ups demonstrate the broad range of industries, locations, and bolts and fasteners used. Are you working on a similar project, need similar bolts, or working in the same region as one of our featured projects? If so, contact us to explore how we might be able to assist you!
Some of our favorite projects from 2019 were:
19 Websites
In addition to our flagship website, www.portlandbolt.com, Portland Bolt operates 18 specialized websites. Each website has been created and is managed by one of our 11 salespeople. Each salesperson possesses expertise centered around the specialized content these diverse sites contain.
In 2021, we intend to launch a couple of new microsites with extensive content related to common ASTM fastener specifications and various types of construction fasteners. We will promote these websites in upcoming newsletters, so stay tuned!

In 2020, Portland Bolt made 9,566 separate shipments of nonstandard anchor bolts and construction fasteners to all corners of the earth. Our interactive Shipment Destination Map will show you them all.
Our strong internet presence and our outstanding reputation have worked together to expand our global reach and allowed us to evolve from a regional supplier into a worldwide manufacturer of anchor bolts and construction fasteners. In 2020, Portland Bolt shipped a total of 57 international orders (excluding Canada) destined for 32 different countries.
2,042 Customers
2020 provided us with an opportunity to partner with 2,042 unique companies spanning a variety of different industries and covering the entire globe.
1,409 East Coast Shipments
The initial reaction of many prospective customers is that our location in Portland, Oregon must limit our ability to participate in projects in the eastern part of the country. Fortunately, these numbers demonstrate otherwise. In 2020, on 1,409 occasions East Coast companies chose Portland Bolt to supply fasteners due to a combination of our outstanding service, superb quality, fast delivery, and competitive price. These statistics clearly demonstrate that no project is too far away for Portland Bolt to be considered for the project.
1,409 Eastern time zone shipments.
1,145 Central time zone shipments.
799 Mountain time zone shipments.
5,656 Pacific time zone shipments.
204 Alaskan shipments.
120 Hawaiian shipments.
View East Coast shipping destinations

In 2020, Portland Bolt shipped to 10 Canadian provinces and territories and averaged shipping more than three orders per week to Canada. We continue to overcome the challenges of customs clearance and an unfavorable exchange rate, proving to be a viable option on Canadian projects requiring large, nonstandard bolts.
In 2020, Portland Bolt shipped a whopping 5,901,285 pounds of custom anchor bolts and nonstandard construction fasteners to companies worldwide!
More Numbers from 2020
11 Number of full-time salespeople employed by Portland Bolt. We operated most of 2020 with 11 salespeople and will have two sales positions available very soon. We stagger our lunchtimes so that we always have someone available to work up a quick quote, answer technical questions, handle a live chat, or process your order.
135 Number of years of combined sales and estimating experience at Portland Bolt. Add our purchasing agent and VP who are in the trenches with the rest of the sales team, and that makes 186 years of fastener expertise.
55 Number of employees at Portland Bolt working in manufacturing, shipping, and the office. Each well-trained employee possesses a unique skillset and works together to ensure you receive quality products delivered on time.
6 – 5 Business hours: 6:00 am – 5:00 pm Pacific Time, Monday through Friday. Extended hours allow us to service our numerous East Coast customers.
94,000 The size, in square feet, of our manufacturing and hot-dip galvanizing facility.
12 x 4 x 7 The length, width, and depth in feet of our hot-dip galvanizing tank that is specifically designed to process threaded fasteners.
19 Number of individual websites owned and operated by Portland Bolt, many of which deal with specialized industries, products, or specifications.
3 Number of live video feeds that show our sales office, shipping dock, and galvanized product assembly area.
2+ New educational websites planned for 2021!