Sleeve nuts are similar to coupling nuts in that they are designed to connect two like-diameter fasteners. They are often used in place of turnbuckles and in combination with high strength tie rods. These custom nuts are typically tapped with right hand (RH) threaded on one end and left hand (LH) threads on the other end. This allows for slight adjustments and proper tensioning once assembled. They can also be ordered with right-hand threads on each end or made to join different diameters.
Standard sleeve nuts differ from coupling nuts because they are longer and typically possess left hand thread on one endand right hand thread on the other.
Since hot-dip galvanizing typically adds 2.2 to 5 mils of thickness to the threaded portion of a fastener, galvanized sleeve nuts are tapped oversize to compensate for the corrosion resistant coating on the rods.
Dimensions
Full Hex Style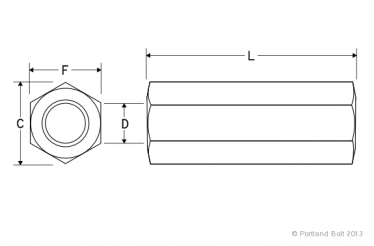 D
F
C
L
Weight (lbs.)
Thread Diameter
Width Across Flats
Width Across Points
Overall Length
1⁄2
7⁄8
1
4
0.53
5⁄8
11⁄8
15⁄16
5
1.12
3⁄4
11⁄4
17⁄16
5
1.29
7⁄8
11⁄2
13⁄4
7
2.67
1
15⁄8
17⁄8
7
2.97
11⁄8
17⁄8
23⁄16
71⁄2
4.35
11⁄4
2
25⁄16
71⁄2
4.75
13⁄8
21⁄4
25⁄8
8
6.56
11⁄2
23⁄8
23⁄4
8
7.06
15⁄8
25⁄8
31⁄16
81⁄2
9.37
13⁄4
23⁄4
33⁄16
81⁄2
9.97
17⁄8
3
37⁄16
9
12.82
2
31⁄4
35⁄8
9
13.5
21⁄4
31⁄2
41⁄16
91⁄2
17.8
21⁄2
37⁄8
41⁄2
10
22.9
23⁄4
41⁄4
415⁄16
101⁄2
28.8
3
45⁄8
55⁄16
11
35.7
31⁄4
5
53⁄4
111⁄2
43.5
31⁄2
53⁄8
63⁄16
12
52.3
33⁄4
53⁄4
65⁄8
121⁄2
62.2
4
61⁄8
71⁄16
13
73.0
41⁄2
67⁄8
715⁄16
14
99.0
5
75⁄8
813⁄16
15
130.0
Round with Wrench Flats Style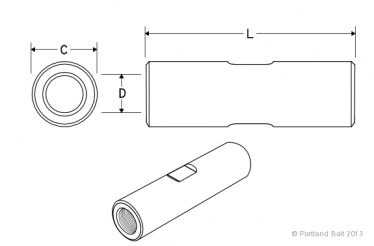 Diameter, Inches D
Dimensions, Inches
Weight (lbs.)
F
C
Length L
Dimensions per AISC Manual of Steel Construction ninth edition, page 4-150
1⁄2
7⁄8
1
4
.43
5⁄8
11⁄16
17⁄32
5
.93
3⁄4
11⁄4
17⁄16
5
1.12
7⁄8
17⁄16
15⁄8
7
1.75
1
15⁄8
113⁄16
7
2.46
11⁄8
113⁄16
21⁄16
71⁄2
3.10
11⁄4
2
21⁄4
71⁄2
4.04
13⁄8
23⁄16
21⁄2
8
4.97
11⁄2
23⁄8
211⁄16
8
6.16
15⁄8
29⁄16
215⁄16
81⁄2
7.36
13⁄4
23⁄4
31⁄8
81⁄2
8.87
17⁄8
215⁄16
35⁄16
9
10.42
2
31/8
31/2
9
12.24
21⁄4
31⁄2
315⁄16
91⁄2
16.23
21⁄2
37⁄8
43⁄8
10
21.12
23⁄4
41⁄4
413⁄16
101⁄2
26.71
3
45⁄8
51⁄4
11
33.22
31⁄4
5
55⁄8
111⁄2
40.62
31⁄2
53⁄8
6
12
49.07
33⁄4
53⁄4
63⁄8
121⁄2
58.57
4
61⁄8
67⁄8
13
69.22
41⁄4
61⁄2
71⁄2
131⁄2
75.00
41⁄2
67⁄8
715⁄16
14
90.00
43⁄4
71⁄4
83⁄8
141⁄2
98.00
5
75⁄8
87⁄8
15
110.0
51⁄4
8
91⁄4
151⁄2
122.0
51⁄2
83⁄8
93⁄4
16
142.0
53⁄4
83⁄4
101⁄8
161⁄2
157.0
6
91⁄8
105⁄8
17
176.0
Tapered Style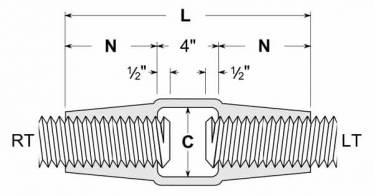 Diameter
Dimensions
Weight (lbs.)
Short Diameter
Long Diameter
L
N
C
Length
Nut
Clear
1⁄2
7⁄8
1
4
-
-
.43
5⁄8
11⁄16
17⁄32
5
-
-
.93
3⁄4
11⁄4
17⁄16
5
-
-
1.12
7⁄8
17⁄16
15⁄8
7
17⁄16
1
1.75
1
15⁄8
113⁄16
7
17⁄16
11⁄8
2.46
11⁄8
113⁄16
21⁄16
71⁄2
15⁄8
11⁄4
3.10
11⁄4
2
21⁄4
71⁄2
15⁄8
13⁄8
4.04
13⁄8
23⁄16
21⁄2
8
17⁄8
11⁄2
4.97
11⁄2
23⁄8
211⁄16
8
17⁄8
15⁄8
6.16
15⁄8
29⁄16
215⁄16
81⁄2
21⁄16
13⁄4
7.36
13⁄4
23⁄4
31⁄8
81⁄2
21⁄16
17⁄8
8.87
17⁄8
215⁄16
35⁄16
9
25⁄16
2
10.42
2
31⁄8
31⁄2
9
25⁄16
21⁄8
12.24
21⁄4
31⁄2
315⁄16
91⁄2
21⁄2
23⁄8
16.23
21⁄2
37⁄8
43⁄8
10
23⁄4
25⁄8
21.12
23⁄4
41⁄4
413⁄16
101⁄2
215⁄16
27⁄8
26.71
3
45⁄8
51⁄4
11
33⁄16
31⁄8
33.22
31⁄4
5
55⁄8
111⁄2
33⁄8
33⁄8
40.62
31⁄2
53⁄8
6
12
35⁄8
35⁄8
49.07
33⁄4
53⁄4
63⁄8
121⁄2
313⁄16
37⁄8
58.57
4
61⁄8
67⁄8
13
41⁄16
41⁄8
69.22
41⁄4
61⁄2
71⁄2
131⁄2
43⁄4
43⁄8
75.00
41⁄2
67⁄8
715⁄16
14
5
43⁄4
90.00
43⁄4
71⁄4
83⁄8
141⁄2
51⁄4
5
98.00
5
75⁄8
87⁄8
15
51⁄2
51⁄4
110.0
51⁄4
8
91⁄4
151⁄2
53⁄4
53⁄4
122.0
51⁄2
83⁄8
93⁄4
16
6
53⁄4
142.0
53⁄4
83⁄4
101⁄8
161⁄2
61⁄4
6
157.0
6
91⁄8
105⁄8
17
61⁄2
61⁄4
176.0

Dimensions per AISC Manual of Steel Construction ninth edition, page 4-150