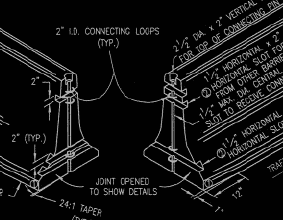 Portland Bolt manufactures nonstandard bolts and specialty hardware for the precast concrete industry. Our 94,000 square foot facility is capable of meeting your most demanding requirements. With our extensive heading capabilities we make state approved barrier pins and a fabrication department to assemble welded inserts, we can turn out a wide variety of products quickly to meet your most demanding schedule.
With our in-house galvanizing line and an iron worker for plate fabrication, we can control each process to ensure quality and provide fast deliveries. Our extensive inventory of domestic hardware to go with the bolts we make will help your next federal or state project run smoothly.
Give us a call to see how Portland Bolt can help your next project run smoothly.