A timber spike, also referred to as a dome head drive spike, is designed to pin two or more wooden members together. The semi-cone pointed fetter drive threads speed up installation because they can be driven into the wood like a nail.
The oversized, low profile head will provide a large bearing surface, thus preventing the bolt from pulling into the wood. A timber bolt, which is the same bolt only with national coarse thread, is also available.
Manufacturing
Portland Bolt manufactures timber spikes from 1/2″ diameter through 1-1/2″ diameter in most ASTM, AASHTO, and SAE specifications. Special requests for heading, thread type, and finishes can be accommodated.
Standard Thread Length
The minimum thread length shall be equal to half the nominal spike length plus 1/2″.
Timber Spike Dimensions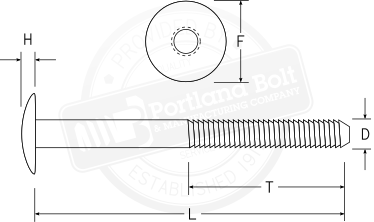 Bolt Diameter
D
F
H
TPI
D
R
Body Diameter
Head Diameter
Head Height
Max
1⁄2
0.515
11⁄2
1⁄4
6
0.0520
0.0232
5⁄8
0.642
115⁄16
5⁄16
5
0.0647
0.0236
3⁄4
0.768
21⁄4
3⁄8
41⁄2
0.0731
0.023
7⁄8
0.895
25⁄8
7⁄16
4
0.0837
0.023
1
1.022
27⁄8
1⁄2
31⁄2
11⁄8
1.149
27⁄8
1⁄2
31⁄2
11⁄4
1.277
27⁄8
1⁄2
31⁄2
13⁄8
1.404
27⁄8
1⁄2
31⁄2
11⁄2
1.531
27⁄8
1⁄2
31⁄2