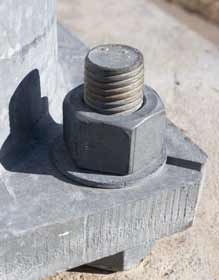 Portland Bolt manufactures and inventories light pole and traffic signal anchor bolts. As an approved supplier for light pole and traffic signal anchor bolts in many states, be confident you will receive the correct material and certification the first time. In many cases anchor bolts are state inspected in our facility and approved prior to shipping.
With a large inventory of 100% domestic raw material and our extensive inventory of both domestic and import hardware, ensures product will be delivered on time. With our in-house hot-dip galvanizing, technicians check all galvanized product for nut fit and quality.
Give us a call to see how Portland Bolt can help your next project run smoothly. Our staff of experienced estimators can help answer your most technical questions.