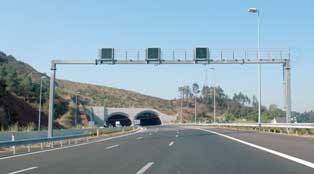 Portland Bolt is an approved supplier of 100% made in the USA highway fasteners for State Departments of Transportation throughout the country. In addition to manufacturing bolts that conform to ASTM and SAE specifications, Portland Bolt also manufactures to AASHTO specification. The acronym AASTHO standards for American Association of State Highway and Transportation Officials. Most AASHTO specification cross-certify directly to an ASTM specification, and our website contains a handy AASHTO to ASTM cross reference chart. Standard products produced for the highway industry include barrier pins, guardrail bolts, bridge rail anchor bolts, traffic signal pole anchors, light pole anchor bolts, and sign structure anchor bolts, amongst others.
Portland Bolt's manufacturing capabilities, combined with our own in-house galvanizing line, allow us to meet the most demanding lead times. Our extensive inventory of domestically produced raw material includes 12 different grades of material in 23 different diameters ranging from 1/2″ through 3-1/2″. Portland Bolt also stocks an unparalleled line of domestic nuts and washers to complement the bolts we manufacture.
Portland Bolt performs in-house mechanical, hardness, and rotational capacity testing. For federally funded highway projects, we only provide products which are 100% domestic and fully traceable. We include the most comprehensive and accurate certification package in the industry which is stored electronically should you ever require additional copies.
Visit our educational website www.highwaybarrierpins.com for state specific information regarding connecting pins and anchor pins,  technical information, and answers to frequently asked questions about highway barrier pin hardware.