Square lag screws are used in wood construction and are often ordered for aesthetic purposes and provide a rustic look. Hex lag screws are more readily available in the marketplace as a standard stock item.
Manufacturing
Portland Bolt manufactures square lag screws from 1/2″ diameter through 1-1/2″ diameter in most ASTM, AASHTO, and SAE specifications. Special tooling can be created to produce nonstandard head dimensions or bolt heads with your company's name and/or logo.
Unless otherwise specified, nonstandard lag screws manufactured by Portland Bolt will possess a semi-cone point rather than a gimlet or cone point. A full point is unnecessary since a pilot hole nearly as large as the root diameter of the lag screw will need to be drilled prior to installation. Additionally, a gimlet point is designed for small diameter screws so they can be installed without a pilot hole. Lag screws in diameters listed in the above table do not require a gimlet point since too much torque would be required to install the large screws without drilling a pilot hole first. Without a pilot hole, the heads of the screws will often break before the lag is properly installed.
Standard Thread Length
The minimum thread length for square lag screws shall be equal to half the nominal screw length plus 1/2″ or 6″, whichever is less. One should consider longer than standard thread lengths for lag screws which are extremely long.
Square Lag Dimensions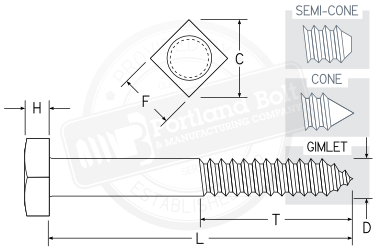 Bolt Diameter
D
F
H
Threads Per Inch
Thread Dimension
Body Diameter
Width Across Flats
Head Height
Pitch
TF
TD
TR
Max
Min
Flat At Root
Depth of Thread
Root Diameter
1⁄2
0.515
0.482
3⁄4
11⁄32
6
0.167
0.072
0.064
0.371
5⁄8
0.642
0.605
15⁄16
27⁄64
5
0.200
0.086
0.077
0.471
3⁄4
0.768
0.729
11⁄8
1⁄2
41⁄2
0.222
0.096
0.085
0.579
7⁄8
0.895
0.852
15⁄16
37⁄64
4
0.250
0.108
0.096
0.683
1
1.022
0.976
11⁄2
43⁄64
31⁄2
0.286
0.123
0.110
0.780
11⁄8
1.149
1.098
111⁄16
3⁄4
31⁄4
0.308
0.133
0.119
0.887
11⁄4
1.277
1.223
17⁄8
27⁄32
31⁄4
0.308
0.133
0.119
1.012
13⁄8
1.404
1.346
21⁄16
29⁄32
3
0.333
0.143
0.128
1.119
11⁄2
1.531
1.469
21⁄4
1
3
0.333
0.143
0.128
1.244

Dimensions per ASME B18.2.1 1996