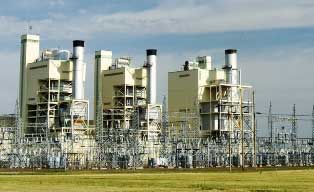 Portland Bolt supplies anchor bolts and nonstandard fasteners for power and energy projects. We manufacture and supply job specific custom bolts for the construction of power plants, transmission lines, and substations. We also supply custom manufactured bolts for the maintenance and expansion of operating facilities. Common applications are anchor bolts for stack foundations, cooling towers, transformers, pipe rack foundations, heat recovery steam generators (HRSG), steam turbine generators (STG), and combustion turbine generators (CTG).
Portland Bolt's extensive manufacturing capabilities, combined with our own in-house galvanizing line, allow us to meet the most demanding lead times. We have provided custom fasteners for power projects both nationwide as well as worldwide. Portland Bolt has supplied complete anchor bolt requirements for 7 power plants in 4 Eastern countries as well as 16 different states. Follow the link for a list of some of the high profile power projects for which Portland Bolt has supplied anchor bolts and other fasteners.
We currently stock 12 different grades of raw material in 23 different diameters to help meet the most demanding delivery requirements and keep our customers' projects on schedule. Portland Bolt has in-house hot-dip galvanizing, plate manufacturing, and welding capabilities for total control of both the finished product and the lead time.