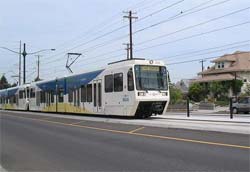 Portland Bolt has supplied anchor bolts for OCS pole foundations and guy anchor foundations. Follow the link for a list of some of the
high profile light rail and trolley projects
for which Portland Bolt has supplied catenary anchor bolts.
Portland Bolt's ability to manufacture and galvanize product to meet our customers' delivery requirements has allowed us to participate in light rail projects nationwide. We have supplied projects as far away as Maryland and Florida as well as the entire west coast.
Our extensive inventory of domestically produced raw material includes 12 different grades of material in 23 different diameters ranging from 1/2" through 3-1/2". Portland Bolt also stocks an unparalleled line of domestic nuts and washers to complement the bolts we manufacture.
Portland Bolt performs in-house mechanical, hardness, and rotational capacity testing. For federally funded highway projects, we only provide products which are 100% domestic and fully traceable. We provide the most comprehensive and accurate certification package in the industry which is stored electronically should you ever require additional copies.