Washers provide a smooth bearing surface and are used under the head of a bolt and/or a nut. Flat washers are covered under the ASTM specification F844. These washers are unhardened and intended for general use.
Stock
Diameters: 1/2″ – 3″
Origin: Import
Finish: Plain and hot-dip galvanized
Manufacturing
Portland Bolt has the ability to manufacture or provide nonstandard square, rectangular, or round washers meeting the requirements of ASTM A36, A572 Grade 50, or F436.
Dimensions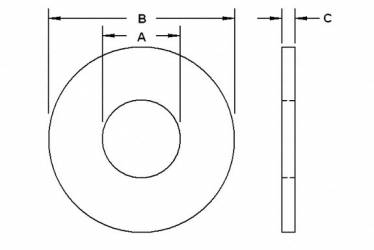 Bolt Size
A
B
C
Weight (lbs.) Per 100 Pieces
Part numbers
Inside Diameter
Outside Diameter
Thickness
Import
Plain
Galvanized
1⁄2
9⁄16
13⁄8
0.109
4
19794
19795
5⁄8
11⁄16
13⁄4
0.134
8
19796
19797
3⁄4
13⁄16
2
0.148
11
19798
19799
7⁄8
15⁄16
21⁄4
0.165
15
19800
19801
1
11⁄16
21⁄2
0.165
19
19802
19803
11⁄8
11⁄4
23⁄4
0.165
22
19804
19805
11⁄4
13⁄8
3
0.165
26
19806
19807
13⁄8
11⁄2
31⁄4
0.180
33
19808
19809
11⁄2
15⁄8
31⁄2
0.180
38
19810
19811
15⁄8
13⁄4
33⁄4
0.180
43
-
-
13⁄4
17⁄8
4
0.180
50
19812
19813
17⁄8
2
41⁄4
0.180
57
-
-
2
21⁄8
41⁄2
0.180
63
19814
19815
21⁄4
23⁄8
43⁄4
0.220
83
16434
16435
21⁄2
25⁄8
5
0.238
96
16436
16437
23⁄4
27⁄8
51⁄4
0.259
110
16670
16671
3
31⁄8
51⁄2
0.284
130
16438
16439
Dimensions per ASME B18.21.1