If you would like to establish an account with Portland Bolt, please complete our credit application. Click the link below to open our application.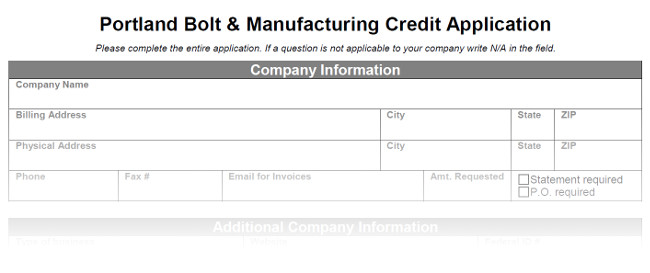 Please fill it out completely, sign the Terms and Conditions of Sale, and email or fax it to our Credit Department at ar@portlandbolt.com or 503-323-0433. We will process your request in a timely fashion.
If you have a pre-printed credit reference sheet, feel free to send it in place of our credit application along with the "Terms & Conditions" page of the above application.
We cannot process your application without a signed copy of the "Terms & Conditions" portion of the application.
If you are using Google Chrome: Google Chrome's PDF viewer lacks the features required to sign or save your form data. In order to fill out the form and save it, you may need to download the form to your computer (Right click > Save link as…) and open it in Adobe Reader.
Attempting to save the form once you have filled it out in Google Chrome will result in an unfilled form. If you fill the form out in Google Chrome, you will need to print it rather than save it in order to keep your changes.