Square head machine bolts were the industry standard prior to hex bolts gaining prominence. Square bolts are now most commonly used for aesthetic purposes to provide a rustic look in a new structure or to match existing fasteners in an older structure. Square lag screws are also used for these purposes.
Crossarm or machine bolts are commonly supplied for the utility industry and included an added cone point.
Manufacturing
Portland Bolt manufactures square bolts from 1/2″ diameter through 2″ diameter in most ASTM, AASHTO, and SAE specifications. Special tooling can be created to produce nonstandard head dimensions or bolt heads with your company's name and/or logo. Portland Bolt stocks square head blanks that are used for small orders or expedited deliveries.
Stock
Portland Bolt does not stock any square head machine bolts, and in most cases, square head bolts are not readily available through fastener distributors. Typically, square head bolts will need to be custom manufactured.
Standard Thread Lengths
Bolt lengths < 6″: Thread length = (2 X diameter) + 1/4″
Bolt lengths > 6″: Thread length = (2 X diameter) + 1/2″
Square Head Dimensions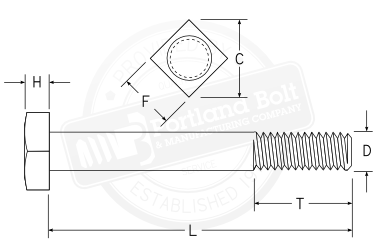 Bolt Diameter
D
F
C
H
Body Diameter
Width Across Flats
Width Across Corners
Height
Max
Basic
Max
Min
Max
Min
Basic
Max
Min
1⁄2
0.515
3⁄4
0.750
0.725
1.061
0.995
21⁄64
0.348
0.308
5⁄8
0.642
15⁄16
0.938
0.906
1.326
1.244
27⁄64
0.444
0.400
3⁄4
0.768
11⁄8
1.125
1.088
1.591
1.494
1⁄2
0.524
0.476
7⁄8
0.895
15⁄16
1.312
1.269
1.856
1.742
19⁄32
0.620
0.568
1
1.022
11⁄2
1.500
1.450
2.121
1.991
21⁄32
0.684
0.628
11⁄8
1.149
111⁄16
1.688
1.631
2.386
2.239
3⁄4
0.780
0.720
11⁄4
1.277
17⁄8
1.875
1.812
2.652
2.489
27⁄32
0.876
0.812
13⁄8
1.404
21⁄16
2.062
1.994
2.917
2.738
29⁄32
0.940
0.872
11⁄2
1.531
21⁄4
2.250
2.175
3.182
2.986
1
1.036
0.964
13⁄4*
29⁄16
13⁄16
2*
215⁄16
15⁄16

* ASME only defines head dimensions up to 1-1/2". Dimensions for 1-3/4 and 2" are approximate and not covered under the ASME dimensional specifications.

Dimensions per ASME B18.2.1 1996