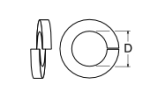 Are lock washers available in different strengths and what ASTM specification(s) cover them?
The term "lock washer" can include a huge variety of different products used in many different applications that often are very specific and can include many different grades, materials and purposes. When our customers refer to a lock washer, we assume they are referencing a "split lock washer" that is a generic lock washer that... Read more
Are ASTM A490 anchor bolts available?
No. Just like in the case of anchor bolts being specified as A325, supplying anchor bolts as ASTM A490 is technically something that should be avoided. This is because the A490 specification is intended to cover heavy hex head bolts for structural steel connections only. This is mentioned in several places within the A490 specification.... Read more
What standards organizations and specifying committees cover the types of bolts and fasteners Portland Bolt manufactures?
Portland Bolt manufactures a wide range of bolts and fasteners to numerous standards set by many different organizations and specifying committees. There are many different organizations for fasteners, all of which have their own set of standards and guidelines for manufacturing. We, as estimators, are often asked what the acronyms for such organizations and committees... Read more
Can Portland Bolt manufacture A325 countersunk bolts?
The short answer is, yes! In 2015, ASTM created F3125 which is a new, all-inclusive specification for structural bolts that consolidated and replaced the following six stand-alone ASTM standards: A325, A325M, A490, A490M, F1852 and F2280. Under the new F3125 specification, A325 fasteners can be made in head styles other than heavy hex as long... Read more
I was told that I cannot use A615 grade anchor bolts because they are not listed in the approved anchor bolt section in the AISC manual. Is there a specification that addresses the use of A615 grade anchor bolts?
There is no mention of any ASTM A615 grade being specifically used for anchor bolts in any ACI, AISC or ASTM specifications that we are aware of. Simply, the A615 grade is a rebar specification for concrete reinforcement; it is not an anchor bolt or raw steel specification. Using rebar for anchor bolts does present... Read more
What grade of nuts and washers are compatible with ASTM A320 Grade L7 bolts and rods?
ASTM A320-L7 is a specification covering bolts, studs, and screws intended for low temperature service. Portland Bolt regularly supplies both plain finish and hot-dip galvanized A320-L7 fasteners to numerous customers in Canada and Alaska. Recently in our Portland Bolt Live Chat, an engineer asked this question as he needed to know what grade of nuts and... Read more
What do the letters and numbers after ASTM grades mean?
ASTM standards are typically called out by their ASTM number and year of revision, for example F1554-07. Occasionally, when small revisions are made at ASTM that do not necessitate a full year revision, the year is annotated with a letter. We fielded a chat recently where this question came up. Below is the correspondence and... Read more
Can all three grades of F1554 anchor bolts be galvanized?
The answer to this question is yes! All three grades within the ASTM F1554 specification, Grade 36, Grade 55, and Grade 105, can be either hot-dip galvanized or mechanically galvanized.  The issues of hydrogen embrittlement and/or mechanical properties being alerted during galvanizing are not an issue with any of these three grades.  In Section 7... Read more
What grades of nuts are weldable?
There are many grades of nuts available in the marketplace, from your "run of the mill" nuts like you'd find at a hardware store, to specialized high strength structural nuts. These nuts are made from different materials and get their strength in different ways. Low strength nuts are made from a variety of materials and... Read more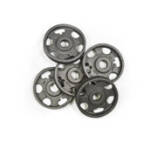 What ASTM Specification covers castings?
There are several ASTM specs which cover castings, including A47, A48, A536, and A668. ASTM A47 A47 covers malleable castings intended for general use up to temperatures around 750⁰ Fahrenheit.  A47 castings come in one grade, available in metric and imperial. Common forgings specified to A47: Shear Plates, Beveled Washers ASTM A48 A48 covers gray... Read more
Do A325X bolts have a special marking on the head that would differentiate them from a standard A325?
The "X" designates the connection type (bearing-type connection with threads excluded from the shear plane) and has nothing to do with the bolt itself. Therefore, an A325 structural bolt used in this type of connection will have no different markings than an A325 bolt used in a different type of connection (N or SC). All A325... Read more
Are there any other "high strength" bolts other an A325, A449 or A490? Would SAE Grade 5 and 8 qualify?
The term "high strength" is a somewhat ambiguous fastener term. Most people in the industry would interpret the phrase "high strength" to refer to any bolt that has been quenched and tempered (heat treated) to develop its strength. Additionally, the ASTM specification F1554 Grade 55 is commonly referred to as being manufactured from a "high... Read more
Why Are A194 Grade 7 Nuts Not Recommended With High Strength Bolts?
I have noticed in specifications from multiple organizations that ASTM A193 Grade B7 bolts are selected along with ASTM A194 Grade 2H nuts. I know that from ASME B16.5 Flanges and Flanged Fittings, the recommended high strength bolt is ASTM A193 Grade B7. However I cannot find in ASTM A193, A194, ASME B16.5, B18.2.1, B18.2.2, B31.1... Read more
Is A193 Grade B7 a valid specification for anchor bolts?
While there is certainly nothing to preclude ASTM A193 B7 from being specified for anchor bolts – and Portland Bolt manufactures them quite often – the specification is not intended for anchor bolt use. ASTM F1554 Grade 105 is a specification specifically developed for anchor bolts and possesses virtually identical chemical and physical properties. ASTM... Read more
Can I order A490 Heavy Hex Structural Bolts larger than 1-1/2" diameter?
According to ASTM A490-11, the answer is no. The A490 specification only covers diameters from 1/2″ to 1-1/2″, inclusive. An A490 bolt cannot be made above 1-1/2″ diameter; ASTM does not allow it. Since there are no chemical requirements, hardness requirements, or strength requirements for A490 fasteners above 1-1/2″ diameter, no manufacturer would be able... Read more
What are the marking requirements for A449 bolts?
The ASTM A449 specification is somewhat ambiguous when it comes to the marking requirements. While the requirements are perfectly clear for hex bolts and studs, the verbiage doesn't address head styles other than hex head, other bolt configurations such as U-bolts, or rods with threads on each end. ASTM A449, Section 16.1, Manufacturers Identification reads as follows:... Read more
Are F1554 Grade 55 anchor bolts always weldable?
F1554 Grade 55 anchor bolts are not always weldable. The weldability of Grade 55 is a supplemental requirement referred to as "S1", which must be specified. According to the ASTM F1554 specification under section S1.1, "This supplemental section, by chemical composition restrictions and by a carbon equivalent formula, provides assurance of weldability." For F1554 Grade 55... Read more
Can an F1554 Grade 55 anchor bolt be substituted for an F1554 Grade 36 anchor bolt?
Yes. According to ASTM F1554-15 when Grade 36 is specified, a weldable Grade 55 may be furnished at the supplier's option. F1554 Grade 36 vs. F1554 Grade 55 F1554 is the ASTM specification for fasteners that have an intended use for anchoring structural supports to concrete foundations. The specification is available in three strength grades:... Read more
What is the maximum service temperature for A193 Grade B7 bolts?
Portland Bolt is often faced with this question, and because there are many conflicting sources online, we decided to do a little research on our own. The resource we found most helpful was ASME B31.1-2012. In this specification, there is a table which shows the maximum allowable stress values in Tension (KSI) for metal temperature.... Read more

Can I order bolts to ASTM A709 Grade 36?
The simple answer here is no. ASTM A709 is a specification that covers carbon and high-strength structural steel plates and bars intended for use in bridge applications. There are multiple grades of A709 and Grade 36 covers the structural steel made from mild carbon steel, such as A36. Although Portland Bolt would manufacture an A709 Grade... Read more
What are the tolerances for F1554 anchor bolts?
In our Live Chat, numerous customers have asked us about tolerances under the F1554 specification relating to things like diameter, length, straightness, and many other parameters. While a customer always has the option of specifying a particular set of tolerances they may require for any bolt, what are the default tolerances for anchor bolts under... Read more
Do F1554 anchor bolts come in stainless steel?
The answer to this question is no. As stated in Section 1.1, the F1554 specification covers various configurations of, "…carbon, carbon boron, alloy, or high-strength alloy steel anchor bolts." In general terms, for a steel to be considered "stainless" it must contain at least 10.5% chromium as part of its chemical composition and will often... Read more
Can I mechanically galvanize fasteners that are very long in length?
Mechanical galvanizing (ASTM B695) is a process in which fasteners are tumbled in a barrel with a mixture of water, zinc powder, other chemicals, and glass impact beads. As the parts are tumbled in the slurry, the zinc is "cold welded" to the fasteners. While some mechanical galvanizers can process parts that over a foot... Read more
What is the difference between A193 Grade B7 & A193 Grade B7M?
Several ASTM specifications are followed by an "M" that denotes it being an equivalent metric standard. While there is actually an A193M Grade B7 specification which is applicable to metric fasteners, this is not the case with ASTM A193 Grade B7M. This is a different grade of material than A193 Grade B7. So how exactly... Read more