Are lock washers available in different strengths and what ASTM specification(s) cover them?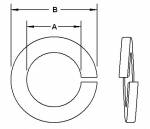 The term "lock washer" can include a huge variety of different products used in many different applications that often are very specific and can include many different grades, materials and purposes. When our customers refer to a lock washer, we assume they are referencing a "split lock washer" that is a generic lock washer that you would see on any general construction site. Generic split Lock washers are not regarded as structural components, since they are just fixing a nut into place, and thus do not have the same amount of scrutiny that nuts and bolts have. Due to this, there is currently no ASTM specification that covers a generic split lock washer. Also, there is no high strength lock washer specification by ASTM and generic lock washers are often used with high strength bolts, since there is no "high strength" lock washer specification or any grades at all for that matter.
The typical imported lock washer that would be commonly sourced does not have any paperwork or certifications and is only manufactured to dimensional requirement called for by ASME B18.21.1. Portland Bolt also stocks some domestic lock washers that do have certifications. These certifiable lock washers are typically made with 1060 material and have paperwork that will typically, but not always, state the material they were made from, the chemical analysis of the material, perhaps the hardness, and galvanization specification that they are hot-dip galvanized to, if they are galvanized. On the vast majority of construction jobs that Portland Bolt has been involved in, if not virtually all of them, when we are required to supply a lock washer we supply a generic lock washer without certifications that is perfectly acceptable. It is possible to have lock washers made or sourced in high strength materials, in specific configurations or manufactured to certain strength requirements, but this would be an unusual and highly custom part that would have to specified by an engineer.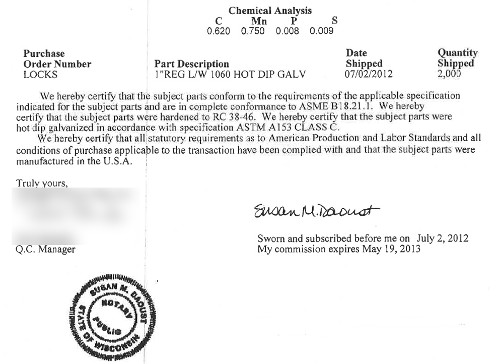 Written ,