What grades of nuts are weldable?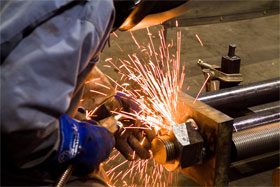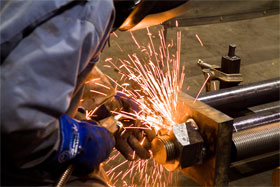 There are many grades of nuts available in the marketplace, from your "run of the mill" nuts like you'd find at a hardware store, to specialized high strength structural nuts. These nuts are made from different materials and get their strength in different ways. Low strength nuts are made from a variety of materials and attain their strength as a function of their chemistry. High strength, or structural nuts, get their strength through a combination of chemistry and heat treatment. We will address these types of nuts separately.
Structural Grades
A563 Grades C, C3, DH, DH3, A194 Grade 2H,
SAE J995 Grades 5 & 8
Non-structural Grades
A563 Grade A, SAE J995 Grade 2
*Grade C/C3 nuts are heat treated at the option of the manufacturer
Structural Nuts
In general, steel items which have been heat treated for strength should generally not be welded since welding inevitably heats the items past the tempering point, resulting in a loss of strength in the heated area and other more unpredictable effects like cracking. Structural nuts are typically heat treated, so welding to them could cause issues and loss of strength. In cases where a weld is called for, it will be up to the engineer of record on the job; whether a particular weld would have noticeably detrimental effects is largely a matter of engineering judgment. Some engineers are comfortable with a small tack weld in certain applications, while others are not. In the case of A563 Grade C and C3, where it is uncertain if the nuts were heat treated, attention should be paid to the chemistry of the nuts. In many cases the carbon and manganese contents may be too high to allow welding, regardless of heat treatment.
AISC Design Guide 21 has this to say about welding to bolts and nuts in general,
"Occasionally, it becomes desirable to weld bolts to structural steel, or bolts to nuts. As a general principle, welding should not be done on bolts or nuts. However, if essential, the composition of the bolt (and nuts if involved) must be carefully considered."
So the position the AISC takes is that whenever possible, welding to bolts and nuts should be avoided, however there are times when it is necessitated. In those cases special care should be taken to assure that the bolts grades being welded to are made from weldable steel and will not be detrimentally affected by the addition of heat.
Non-Structural Nuts
The non-structural grades are where weldability gets a bit gray. These are often referred to as low carbon nuts, and little attention is paid to their specific chemistry. In a random sampling of numerous sizes of nuts in our inventory, representing five different manufacturers, it appears that smaller nuts, those 1″ and below, are cold formed and made from 1008 or 1010 steel, which has low carbon, low manganese, and would chemically be considered weldable. Above 1″ diameter however, the nuts are hot formed and are made from medium carbon steel similar to AISI 1045. These nuts have a carbon content of approximately 0.45%, much too high to fall under the umbrella of what is normally considered weldable.  Assuming that this random sampling remains accurate across other manufacturers, we can draw the conclusion that non-structural nuts 1″ and below can be welded, and for nuts above 1″, welding should be avoided. That said, because capabilities vary from manufacturer to manufacturer, we cannot be certain that this rule of thumb will always be true. The safest bet will always be to obtain mill test reports from your supplier prior to welding, and have an engineer assess the chemistry and weldability.
Alternative Designs
Since the weldability of most nuts can be called into question, are there any alternatives? Yes. When anchor rods require a nut to be welded to the embedded end, consider using a bolt with a forged hex head. This eliminates the possibility of welds cracking or the mechanical properties of high strength nuts and anchor rods being altered due to the introduction of heat during the welding process. Instead of welding nuts to anchor plates and threading them onto the embedded end of an anchor rod, consider sandwiching the anchor plate between two nuts. When these nuts are run tight against the anchor plate, they will not loosen.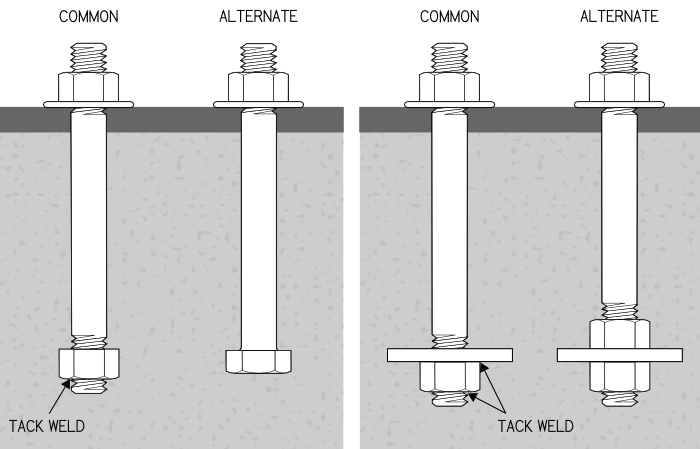 Note: The issues raised in this FAQ are intended primarily for engineers to consider when designing anchor bolts and welded fasteners for their construction projects. This information should not be used by contractors, steel fabricators, or fastener distributors to alter a welded fastener that has been engineered for a specific application. Any changes to approved construction drawings should be done in conjunction with the engineer of record's approval.
In summary, caution should be used when welding to any nuts. If care has been taken to assure that the nuts were ordered and manufactured to be weldable, then you can be reasonably certain of their weldability. If not, then the material composition should be investigated and an engineer or metallurgist should be consulted to assure that any addition of heat will not adversely affect the nut.
If welding to material grades mentioned in this FAQ are specified on your project, consult with the Engineer of Record for special welding procedures or guidelines.
Written ,