Thank You to Our Loyal Customers & Vendors
As we reflect on 2019 and prepare for what lies ahead, we would like to take this opportunity to thank you for making 2019 another fantastic year. We were fortunate to contribute to critical infrastructure projects like the Bonner Bridge Replacement in Rodanthe, North Carolina, light rail projects such as the E340 Bel-Red Light Rail Track Replacement project in Bellevue, Washington, and international projects including the ARAUCO Pulp Mill project in Chile. We are thankful that you have trusted us to partner with you, and we hope that we have contributed as much to your success as you have contributed to ours. We look forward to working with you on projects in 2020.
2019 Expansion & Maintenance

In 2019, we added 9,250 square feet to our existing 85,000-square-foot manufacturing and galvanizing facility. The existing steel storage racks at the west end of our building were repositioned, more racks were added, and a bay door was installed allowing flatbeds delivering round bar to pull all the way through our facility after unloading.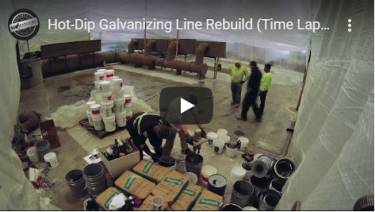 After 10 years of continuous operation, a complete overhaul of our hot-dip galvanizing line occurred in 2019 as part of a scheduled maintenance project. This time-lapse video shows the 14-day project in which all preparation line tanks and the galvanizing kettle were replaced.
Al Fogel Retires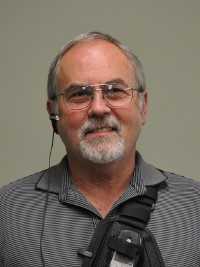 Operations Manager (1987 – 2019)
We would like to take this opportunity to thank Al Fogel for 33 years of dedicated service to Portland Bolt. Upon his retirement, Al and his wife, Ruth, plan to travel and spend time in both Arizona and Oregon. Al was Portland Bolt's Operations Manager from 1987 – 2019 and oversaw day-to-day activities in the manufacturing facility.
Al was instrumental in the relocation to our current facility in May of 1992, two facility expansions at our current location, and the design and implementation of our hot-dip galvanizing line. Al is featured in our "How a Bolt is Made" video which has accumulated nearly two million views.
With Al's departure, our manufacturing facility and shipping department are in capable hands. Steve Hastings has shared Al's responsibilities for many years and will now assume more responsibility. Marcus Hammond was hired early in 2019 to work with Steve in managing the manufacturing and shipping departments.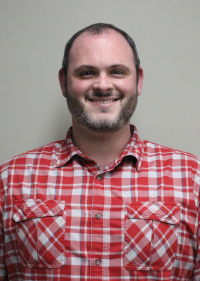 Production Supervisor
marcus@portlandbolt.com
(503) 232-0432
Marcus Hammond joined the Portland Bolt team in July of 2019. Prior to that, he worked for a local manufacturer of ergonomic office and medical furniture for about 14 years. Outside of work, Marcus stays busy raising his son and daughter with his wife, Hannah, in Newberg, Oregon.
Marcus is an outdoors lover and looks forward to his annual hunting trip and fishing whenever he can find the time.
Hometown: Born in Tucson, Arizona but spent most his life in the Pacific Northwest.
TV/Movies: Band of Brothers, The Office
Music: As a bass player, Marcus is drawn to the low end. Some of his biggest influences are Michael Balzary, Victor Wooten, and Jaco Pastorius.
Sports: Football mainly, but he also enjoys watching the World's Strongest Man competitions.
Hobbies: Live music and comedy
New Year, New Content
In 2019, we continued to build upon what we feel is the most comprehensive construction fastener website in the industry. We explained which standards define dimensions for bolts, nuts, and washers, we described the procedures we use to ensure orders ship on time, and we outlined all of the information you will need to properly order bolts. The FAQ section of our website provides a wealth of technical fastener information explained in layperson terms.
2020 promises to deliver even more new content, so when you need technical expertise for the fastener industry, visit us at www.portlandbolt.com.
Each year we endeavor to improve and expand the educational content we provide relating to construction fasteners. In 2019 we added 24 new frequently asked questions, and 37 new featured projects.
In 2019, our team answered 24 new Frequently Asked Questions, bringing the total number of FAQs in the most comprehensive technical construction fastener database found online to an incredible 345! These common questions asked of our sales team explain technical aspects of the construction fastener industry so they can be understood by anyone from an experienced engineer to a purchasing agent who rarely buys bolts.
The most popular FAQs in 2019 were:
In 2019, our sales team added 37 project summaries to the 333 total projects featured on our website. These featured projects contain a description of the project, location, a summary of the bolts we manufactured for the project, and photographs from before, during, or after construction.
These write-ups demonstrate the broad range of industries, locations, and bolts and fasteners used. Are you working on a similar project, need similar bolts, or working in the same region as one of our featured projects? If so, contact us to explore how we might be able to assist you!
Some of our favorite projects from 2019 were:
19 Websites
In addition to our flagship website, www.portlandbolt.com, Portland Bolt operates 18 specialized websites. Each website has been created and is managed by one of our 10 salespeople. Each salesperson possesses expertise centered around the specialized content these diverse sites contain.
Site & Site Managers
In 2020, we intend to launch a couple of new microsites with extensive content related to common ASTM fastener specifications and various types of construction fasteners. We will promote these websites in upcoming newsletters, so stay tuned!
2019 – Year in Review

10,018 Shipments
In 2019, Portland Bolt made 10,018 separate shipments of nonstandard anchor bolts and construction fasteners to all corners of the earth. Our interactive Shipment Destination Map will show you them all.
40 Countries
Our strong internet presence and our outstanding reputation have worked together to expand our global reach and allowed us to evolve from a regional supplier into a worldwide manufacturer of anchor bolts and construction fasteners. In 2019, Portland Bolt shipped a total of 86 international orders (excluding Canada) destined for 40 different countries.
2,354 Customers
2019 provided us with an opportunity to partner with 2,354 unique companies spanning a variety of different industries and covering the entire globe.
1,540 East Coast Shipments
The initial reaction of many prospective customers is that our location in Portland, Oregon must limit our ability to participate in projects in the eastern part of the country. Fortunately, these numbers demonstrate otherwise. In 2019, on 1,540 occasions East Coast companies chose Portland Bolt to supply fasteners due to a combination of our outstanding service, superb quality, fast delivery, and competitive price. These statistics clearly demonstrate that no project is too far away for Portland Bolt to be considered for the project.
1,540 – Eastern time zone shipments
1,340 – Central time zone shipments
827 – Mountain time zone shipments
5,344 – Pacific time zone shipments
138 – Alaskan shipments
160 – Hawaiian shipments
View East Coast shipping destinations →
In 2019, Portland Bolt shipped to 12 Canadian provinces and territories and averaged shipping more than one order per working day to Canada. We continue to overcome the challenges of customs clearance and an unfavorable exchange rate, proving to be a viable option on Canadian projects requiring large, nonstandard bolts.
6.3 Million Pounds
In 2019, Portland Bolt shipped a whopping 6,364,326 pounds of custom anchor bolts and nonstandard construction fasteners to companies worldwide!
More Numbers from 2019
10 – Number of full-time salespeople employed by Portland Bolt. We operated most of 2019 with 11 salespeople and currently have a sales position available. We stagger our lunch times so that we always have someone available to work up a quick quote, answer technical questions, handle a live chat, or process your order.
123 – Number of years of combined sales and estimating experience at Portland Bolt.
55 – Number of employees at Portland Bolt working in manufacturing, shipping, and the office. Each well-trained employee possesses a unique skill set and works together to ensure you receive quality products delivered on time.
6 – 5 – Business hours: 6:00 am – 5:00 pm Pacific Time, Monday through Friday. Extended hours allow us to service our numerous East Coast customers.
94,000 – The size, in square feet, of our manufacturing and hot-dip galvanizing facility.
12 x 4 x 7 – The length, width, and depth in feet of our hot-dip galvanizing tank that is specifically designed to process threaded fasteners.
18 – Number of individual websites owned and operated by Portland Bolt, many of which deal with specialized industries, products, or specifications.
3 – Number of live video feeds that show in real time our sales office, shipping dock, and galvanized product assembly area.
+2 – New educational websites planned for 2020!