How does Portland Bolt ensure orders ship on time?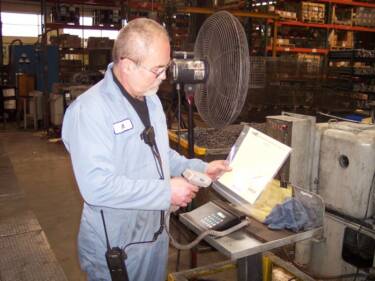 We here at Portland Bolt pride ourselves on our quick turnaround times and on-time delivery. Often times a company will say that they can hit a certain date and miss the mark. When it comes to tight deadlines Portland Bolt understands that missing a concrete pour or failing to hit a deadline can cost your company thousands of dollars. We have been in business since 1912 for a reason. We understand that time is not money. Time is time.
We hit our deadlines because:
We track all of our orders through the shop. For each labor operation, we scan in and out of that operation. We are one of the few companies in our industry that does this. It gives us an accurate timeline for a run to go through the shop as well as a way to monitor orders to make sure they are on track.
We have our own in-house hot-dip galvanizing line and are able to provide galvanized rods in virtually any length
We have 4 cutting machines which include 2 shears and 2 band saws
We have 7 heading machines called upsetters that hot forge heads onto bolts
We have 17 threading machines which include 3 roll threads and 14 cut threaders
We have 6 bending machines
We have 2 ironworkers to make plates and we stock common plate sizes
We stock over 650 tons of steel round bar to begin processing your order immediately
We offer in-house welding and light fabrication performed by certified welders
We have our own in-house testing facility that performs mechanical, hardness, and rotational capacity testing
We have a certification department that offers certs at no additional cost when your order ships
We stock an extensive line of high strength headed bolt blanks for expedited processing
We run two shifts in our 94,000 square foot manufacturing facility
Our sales staff is staggered from 6 am to 5 pm Pacific Time making sure our customers from New York to Hawaii are taken care of
We have a large inventory of stock items. We stock anything from nuts and washers to domestic headed anchor bolts. We can often ship orders the same day, and if not, the following day.
We strive to get every order out on time, but on rare occasions, things happen and orders can be delayed. As a company we make sure that we communicate with you immediately, so as soon as we know you know, giving you as much time to plan ahead and work around the issue.
Portland Bolt is in business for our customers. Call us, email us, or chat with us online and we will be able to help you out.
Written ,