Does ASTM F1554 require headed anchor bolts to be stamped on the head with the fastener's grade symbol and manufacturer's logo?
Stamping the heads of F1554 anchor bolts is not required per the ASTM Specification, but Portland Bolt chooses to do so to provide a secondary identification. Product Marking ASTM F1554 anchor bolts are marked on the threaded end that projects from the concrete with a designating color code, as is required by the specification.  Marking... Read more
Can all three grades of F1554 anchor bolts be galvanized?
The answer to this question is yes! All three grades within the ASTM F1554 specification, Grade 36, Grade 55, and Grade 105, can be either hot-dip galvanized or mechanically galvanized.  The issues of hydrogen embrittlement and/or mechanical properties being alerted during galvanizing are not an issue with any of these three grades.  In Section 7... Read more
Are F1554 Grade 55 anchor bolts always weldable?
F1554 Grade 55 anchor bolts are not always weldable. The weldability of Grade 55 is a supplemental requirement referred to as "S1", which must be specified. According to the ASTM F1554 specification under section S1.1, "This supplemental section, by chemical composition restrictions and by a carbon equivalent formula, provides assurance of weldability." For F1554 Grade 55... Read more
Can an F1554 Grade 55 anchor bolt be substituted for an F1554 Grade 36 anchor bolt?
Yes. According to ASTM F1554-15 when Grade 36 is specified, a weldable Grade 55 may be furnished at the supplier's option. F1554 Grade 36 vs. F1554 Grade 55 F1554 is the ASTM specification for fasteners that have an intended use for anchoring structural supports to concrete foundations. The specification is available in three strength grades:... Read more

Can I order bolts to ASTM A709 Grade 36?
The simple answer here is no. ASTM A709 is a specification that covers carbon and high-strength structural steel plates and bars intended for use in bridge applications. There are multiple grades of A709 and Grade 36 covers the structural steel made from mild carbon steel, such as A36. Although Portland Bolt would manufacture an A709 Grade... Read more
What are the tolerances for F1554 anchor bolts?
In our Live Chat, numerous customers have asked us about tolerances under the F1554 specification relating to things like diameter, length, straightness, and many other parameters. While a customer always has the option of specifying a particular set of tolerances they may require for any bolt, what are the default tolerances for anchor bolts under... Read more
Do F1554 anchor bolts come in stainless steel?
The answer to this question is no. As stated in Section 1.1, the F1554 specification covers various configurations of, "…carbon, carbon boron, alloy, or high-strength alloy steel anchor bolts." In general terms, for a steel to be considered "stainless" it must contain at least 10.5% chromium as part of its chemical composition and will often... Read more
Are there straightness tolerances for ASTM F1554 anchor bolts?
The answer to this question is no. The ASTM F1554 specification defines tolerance ranges for various dimensional requirements such as thread dimensions, thread length variance, overall length, (and in the case of bent anchor bolts) bend section, hook length, and bend length. However, no tolerances are given for straightness. The reason for this is because... Read more
Is color coding required on F1554 anchor bolts when supplemental requirement S3 is requested?
S3 is the supplemental specification for a permanent grade identification stamp on the top end of F1554 anchor bolts. When this is called out, it replaces the color code requirement. Therefore, color coding is not required when supplemental requirement S3 is called out on the purchase order. For more information on marking and color coding... Read more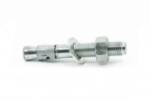 Does the F1554 specification cover wedge anchors?
No. The ASTM F1554 specification clearly addresses the type of bolts that are covered under this specification, and which types of fasteners are not. ASTM F1554 Section 1.1 states that F1554 covers "…straight and bent, headed and headless, carbon boron, alloy or high strength low-alloy steel anchor bolt (also known as anchor rods)." Additionally, in... Read more
Do headed F1554 anchor bolts have a standard hex head or a heavy hex head?
ASTM F1554 does not specify whether the headed configuration is to be a standard hex pattern or heavy hex. There are three primary configurations covered by the ASTM F1554 specification which include straight rods, bent anchor bolts, and forged headed anchor bolts. Whether or not a headed anchor has a standard hex head or a heavy hex head can differ depending on the application. Since the... Read more
What is the length tolerance for a bolt?
ASME B18.2.1 has a table that deals with the length tolerance for square, hex, heavy hex, and askew head bolts. It also has a section for lag screws as well as tighter tolerance cap screws. The tolerance varies greatly per diameter and length of the fastener. See the table below. ASTM A325 and A490 heavy... Read more
Can the anchor bolts type ASTM F1554 grade 36 be replaced with ASTM A307 grade 36?
This question was submitted by a Port Authority on the East Coast. Anchor bolts were supplied by another company claiming they met or exceeded the requirements of F1554 grade 36. As it turns out, they did not. Hi Greg, Sorry for being late to send you a clear copy of the Mill certification. Just to... Read more

Can I substitute Grade 5 or A449 bolts for F1554 grade 55 bolts?
In most circumstances the answer is no. For Grade 5 the answer is never. Although, Grade 5 meets the minimum yield requirements of F1554gr55, the minimum tensile requirements exceed the maximum tensile requirements in all cases. A449 is similar in regards to meeting the minimum yield strength of F1554 Grade 55 across the board but... Read more

Will imported A307 grade A hex bolts meet the requirements of F1554 grade 36?
Anchor bolts which are embedded in concrete and used for structural anchorage purposes can assume several forms. Common forms of anchor bolts include right angle bend anchor bolts, swedged rods, and threaded rods (typically with a nut and/or square plate attached to the bottom of the rod). Another common configuration for an anchor bolt is... Read more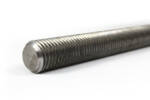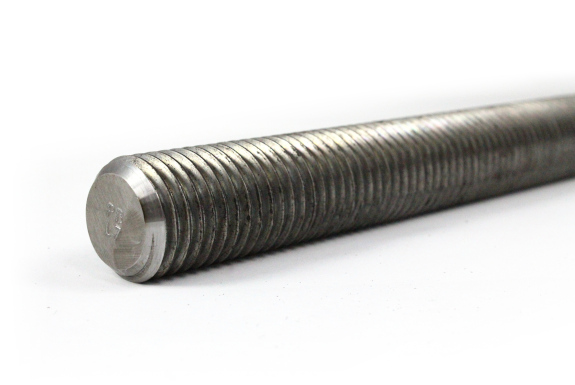 Does commercially available mild steel all thread rod meet ASTM F1554 grade 36?
In almost all cases, commercially available all thread rod will not meet F1554 grade 36. First, it is rare that distributors or manufacturers keep lot control on all thread rod. In other words, different heats of all thread rod are commingled so that it is difficult to determine the exact certification document that corresponds to... Read more
My plans call for an A307 grade C anchor bolt and my supplier is offering F1554 grade 55 anchor bolts as a substitution. Is this acceptable?
Theoretically, this substitution makes sense. However, one should always check with the project engineer before making any alterations to the grade or configuration of product that has been specified for the structure. Please note that for liability reasons, Portland Bolt is not recommending that this substitution be made without appropriate approval. The A307 grade A... Read more
What is "Reduction of Area (RA%)"?
RA% is a term that stands for "reduction of area percentage." It is an important requirement of the ASTM F1554 specification, in addition to other specifications. This value is reported as a percentage of the original test piece. When fasteners undergo mechanical testing, they are pulled to failure and the diameter of the point at which... Read more