Does the F1554 specification cover wedge anchors?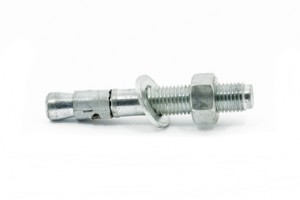 No. The ASTM F1554 specification clearly addresses the type of bolts that are covered under this specification, and which types of fasteners are not.
ASTM F1554 Section 1.1 states that F1554 covers "…straight and bent, headed and headless, carbon boron, alloy or high strength low-alloy steel anchor bolt (also known as anchor rods)." Additionally, in Section 1.2, "The anchor bolts are intended for anchoring structural supports to concrete foundations." Finally, in Section 1.6, the specification reads, "This specification does not cover the requirements for mechanical expansion anchors, powder-activated nails or studs, or anchor bolts fabricated from deformed bar." Wedge anchors, which are also known as expansion anchors or expansion bolts, are considered to be mechanical expansion anchors and therefore, are not covered by ASTM F1554.
In summary, F1554 allows for a variety of anchor bolt configurations, but does not cover hardware, such as expansion anchors, that are used for functions other than anchoring structural supports to concrete.
Written ,