What is "Reduction of Area (RA%)"?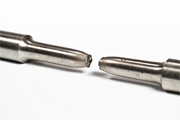 RA% is a term that stands for "reduction of area percentage." It is an important requirement of the ASTM F1554 specification, in addition to other specifications. This value is reported as a percentage of the original test piece. When fasteners undergo mechanical testing, they are pulled to failure and the diameter of the point at which the fastener breaks is measured and compared to the original diameter. The difference between the original sample and the broken piece is calculated and reported as the reduction of area percentage.
Each grade of ASTM F1554 has a minimum requirement to meet. For example, grade 36 has a 40% minimum reduction of area requirement which means that in order for the bolt to comply to this specification it must reduce in diameter at least 40% (or more) before breaking.
Written ,