Can the anchor bolts type ASTM F1554 grade 36 be replaced with ASTM A307 grade 36?
This question was submitted by a Port Authority on the East Coast. Anchor bolts were supplied by another company claiming they met or exceeded the requirements of F1554 grade 36. As it turns out, they did not.
Hi Greg,

Sorry for being late to send you a clear copy of the Mill certification. Just to refresh your memory: The question is, ASTM F1554 Gr 36 against ASTM A307 also Grade 36. As you know, the contractor submitted ASTM A307 with the attached mill certification and stated that it meets or exceeds ASTM F1554.

First: What is ASTM F1554 … is this material ?? or just testing method ??
Second: Attached is a clearer copy for the Mill Certification.
Yield is 50,736 PSI
Tensile is 70,961 PSI
% elongation is 23.6 % to 25 % per 8 inches
What do you think ?? Are we missing any information in the mill certification for the F1554 – see attached – is the provided information in the mill certification can be passed as ASTM F1554?

Thank you for your help
To address your first question:
ASTM A36 is a steel grade, not a bolt specification. It covers the raw material (in this case steel round bar) that is used to manufacture the bolts. A307 and F1554 grade 36 are ASTM specifications covering bolts. Both A307 and F1554 grade 36 bolts are frequently manufactured using A36 steel. ASTM A307 is a specification that covers mild steel bolts. There are two grades within the ASTM specification. A307 grade A covers bolts for general applications, while A307 grade B covers heavy hex bolts and studs for cast iron flanges. There used to be an A307 grade C specification covering anchor bolts, but it was eliminated in 2007 and subsequently replaced by F1554 grade 36.
Both A307 grade C (when it existed) and F1554 grade 36 have chemical and mechanical (strength) requirements that must be met in order to certify the bolts to these specifications. As you can see in the table below, F1554 grade 36 requires additional testing (reduction of area) that A307 grade C did not require.
Mechanical Requirements
| Grade | Tensile, ksi | Yield, ksi min | Elongation % min | Reduction of Area % min |
| --- | --- | --- | --- | --- |
| A307 grade C | 58 - 80 | 36 | 23 | no requirement |
| F1554 grade 36 | 58 - 80 | 36 | 23 | 40 |
As for the bolts that were supplied…
One of the requirements of F1554 grade 36 is that the Reduction of Area of the steel must exceed 40%. For the anchor bolts in question, either this test was never performed or the data was never recorded on the test report. Most likely, the test was not performed since this is only a test of F1554 and not a test required of A307. Since this value is missing, there is no way to determine whether or not the bolts that were supplied (and are already in the foundation) have enough ductility (as determined by the Reduction of Area test) to meet the requirements of F1554 grade 36. There is a very good chance that the bolts would meet this requirement if they were tested, but they never were. Therefore, based on the test reports that accompanied the bolts that were supplied, these anchor bolts do not meet all of the requirements of F1554 grade 36. Tensile, yield, and elongation are all good, but the reduction of area requirement has not been met.
Many companies attempt to substitute A307 anchor bolts for F1554 grade 36 anchor bolts as has occurred in this case. The bottom line is that these anchor bolts that were supplied are missing data that is required to certify them to F1554 grade 36.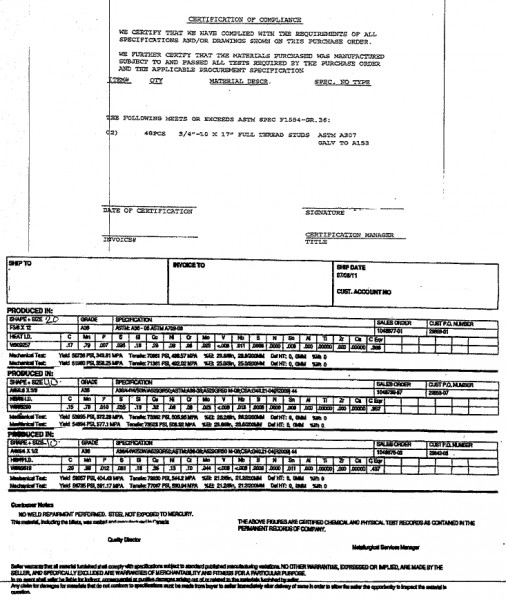 Written ,