What is a Bolt Blank?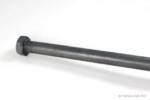 From time to time our friendly estimators may mention that we are going to make your order using bolt blanks. But what is a bolt blank?
In order to help facilitate small runs of custom bolts and rush orders, Portland Bolt stocks bolt blanks. Bolt blanks are headed bolts that have not been threaded yet. Stocking these semi-finished parts allows us to quickly cut a blank to the required length (up to 36" long) and cut-thread the necessary amount of thread. They allow us to save time on heat treated grades, such as A325, because they can be heat treated after heading, but before we cut to length and thread. On non-heat treated grades they still offer a time savings, by allowing us to bypass the heading operation for you order.
For smaller runs, blanks can save you money as well. With smaller quantities of custom parts, one of the biggest costs can be setup costs. Since these bolts have already been headed, that setup cost is spread out over more than just the parts you ordered. For blanks that require heat treating (A325, A449), minimum heat-treating costs would come into play for small quantity orders, but are avoided when using blanks. Fixed testing costs for these grades are extreme when manufacturing small quantities, but are minimized when spread amongst a large run of blanks.
We stock blanks in diameters ranging from ½" through 2" depending on the grade. With the creation of the F3125 specification, we now carry A325 blanks with two different head markings, your standard "A325" and "A325S". For more information on the "A325S" marking, please refer to this FAQ: Why are the heads of my A325 bolts marked with the letter "S"?
Portland Bolt has the following head styles and grades in stock:
If your project requires headed bolts in a thread pitch or tolerance that we are unable to provide, custom headed blanks in virtually any grade can be made for you to thread.
Our experienced estimators will determine if using a bolt blank is the fastest or most economical method of manufacturing your order. If you have any questions about bolt blanks or anything else, please feel free to give one of our team members a call and we will be happy to help.
Written ,