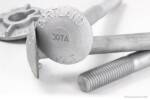 Are timber bolts installed with a washer under the head of the bolt?
Timber bolts, also referred to as economy bolts in the Pacific Northwest, are designed with a round oversized head which eliminates the need for a washer underneath the head. The underside of the head has two nubs which bite into wood and prevent the head from spinning in the timber. The nubs under the head... Read more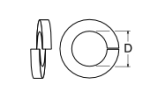 Are lock washers available in different strengths and what ASTM specification(s) cover them?
The term "lock washer" can include a huge variety of different products used in many different applications that often are very specific and can include many different grades, materials and purposes. When our customers refer to a lock washer, we assume they are referencing a "split lock washer" that is a generic lock washer that... Read more
What grade of nuts and washers are compatible with ASTM A320 Grade L7 bolts and rods?
ASTM A320-L7 is a specification covering bolts, studs, and screws intended for low temperature service. Portland Bolt regularly supplies both plain finish and hot-dip galvanized A320-L7 fasteners to numerous customers in Canada and Alaska. Recently in our Portland Bolt Live Chat, an engineer asked this question as he needed to know what grade of nuts and... Read more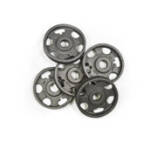 What ASTM Specification covers castings?
There are several ASTM specs which cover castings, including A47, A48, A536, and A668. ASTM A47 A47 covers malleable castings intended for general use up to temperatures around 750⁰ Fahrenheit.  A47 castings come in one grade, available in metric and imperial. Common forgings specified to A47: Shear Plates, Beveled Washers ASTM A48 A48 covers gray... Read more
Do ASTM F844 standard flat washers come with certification documents?
Commercially available ASTM F844 washers are typically not accompanied by certification documents, even though the F844 washers supplied by Portland Bolt are domestically manufactured. The reason mill test reports are not available for F844 washers is that there are no specific chemical or mechanical (strength, hardness) requirements for these washers. The only requirement is that they need... Read more
What is the ASTM specification for stainless steel washers?
Stainless steel washers are not made to an ASTM specification; they are only made to raw material specifications. Most stainless steel ASTM bolt specifications refer to the raw material specification they are made from as the appropriate washer to use in conjunction with the bolt. Hence, an ASTM A193 or A320 grade B8M bolt, made... Read more
Are washers required to be used with an A325 or A490 structural bolt?
It is known that the required grade of washer to be used with an A325 or A490 structural bolt is an ASTM F436 hardened washer, however whether or not a washer is required to be used in a given application is often brought into question. The purpose of using a flat washer with a bolt... Read more
My plans are calling for a 1" thick, 5" outside diameter ASTM F436 plate washer. My local supplier is telling me that F436 washers only come in standard sizes that are much smaller. Are these larger F436 plate washers available?
Yes. Custom F436 washers can be manufactured to larger sizes per your job's requirements. Portland Bolt has been involved in many projects where custom F436 washers were specifically called for on a job.  However, ASTM F436 does not technically allow for custom sizes and only allows for very specific types and styles that conform to... Read more