My plans are calling for a 1" thick, 5" outside diameter ASTM F436 plate washer. My local supplier is telling me that F436 washers only come in standard sizes that are much smaller. Are these larger F436 plate washers available?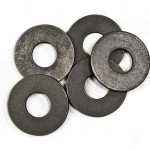 Yes. Custom F436 washers can be manufactured to larger sizes per your job's requirements. Portland Bolt has been involved in many projects where custom F436 washers were specifically called for on a job.  However, ASTM F436 does not technically allow for custom sizes and only allows for very specific types and styles that conform to specific dimensions.  Portland Bolt is able to manufacture custom hardened plate washers for our customers with the understanding that they will meet the physical and chemical requirements of ASTM F436, but technically the specification does not cover washers with nonstandard dimensions.
Typically large round plate washers and large square washers are made with A36 or A572 Grade 50 steel and are not heat treated, as the ASTM F436 specification requires. The vast majority of all F436 washers available in the marketplace have standard SAE Pattern dimensions that can be seen on our dimensional chart. The specification also includes beveled washers, clipped washers and extra thick pattern washers that have limited availability in some sizes and finishes. Anything larger or different than these four options (standard SAE pattern, beveled, clipped, and extra thick pattern) are not available in the marketplace and must be custom made.  See the below list for descriptions and information on the different types and styles allowed within the F436 washer specification.
Types
Type 1 – Carbon steel washers typically available in plain finish and hot-dip galvanized finish.  This is the common type that is seen in the marketplace and the style information below pertains to Type 1 washers.
Type 3 – Weathering steel washers that are available in the marketplace from 5/8" diameter to 1-1/2" diameter in circular style only.  Clipped, beveled, and extra thick would have limited availability in the marketplace and very well may not exist or be available depending on diameter.
Styles
Portland Bolt has the experience and the expertise to correctly and quickly manufacture the round, square, or beveled F436 washers and bolts needed on your job. Plus, if they need to be galvanized, we perform that operation in our 94,000 square foot manufacturing facility.
Written ,