Technical FAQs
Can I get stainless steel all thread rod in grade 55?
The reference to "Grade 55" is for getting a stainless steel all thread rod with a minimum yield strength of 55,000 psi.  There are currently no stainless steel specifications commonly stocked that will guarantee a 55,000 psi yield strength. The most commonly stocked grades of stainless all thread rod are A193, A320, and F593. The... Read more
What are the tolerances for round bar?
The bars we use to manufacture your bolts are rolled by the steel mill with standard tolerances for diameter, out of roundness, and straightness. ASTM A6 covers many of these tolerances, as well as the chemical and dimensional tolerances for other shapes and plates. Because round bar is what we primarily use, we will stick... Read more
Why are the hex heads of my stainless steel bolts developing rust?
There are two possible causes for this. First is that oxidation can occur due to contamination from equipment that is used to make other carbon steel products. This can leave some iron deposits that will rust over time. This is only aesthetic, but can be unsightly. The second possibility is that the bolts were not manufactured properly... Read more

How do you lock a tie rod assembly in place?
The easiest way to lock a tie rod assembly in place is by including an extra nut that can be run up against either the clevis or the turnbuckle.  Once the nut has been jammed in place the assembly will be unable to move.  These pictures show that the nut has to be placed on... Read more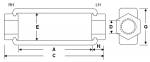 How are turnbuckles measured?
A turnbuckle body is designated by the diameter of the rod threading into it and the length of the take-up inside the turnbuckle rather than the overall length. For example, a 1" x 6" turnbuckle body has an overall length of 8⅞", but has an opening or "window" measuring 6". Common sizes available are 6",... Read more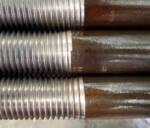 What is "thread runout" and what specifications cover it?
The thread runout portion of a bolt is where the threaded section transitions into the bolt shank.  This area exists beyond where the usable thread stops.  In other words, if you were to assemble a nut all the way onto a bolt, the nut will stop, but there will still be a small portion of... Read more

Can I use reduced body bolts with shear plates and split rings?
Although ASME B18.2.1 allows for reduced body diameter bolts (where the unthreaded shank is equal to the pitch diameter of the threads), the American Wood Council does not.  In Section 13.1.3.3 of the 2015 National Design Specification for Wood Construction, it says: "Bolts used with split ring and shear plate connectors… shall have an unreduced... Read more
Is there a way to visually distinguish the difference between a Class 1 and Class 2 stainless steel bolt?
Yes there is. A193 and A320 grades B8 and B8M are assumed to be Class 1 unless otherwise specified. Class 1 fasteners are carbide solution treated, while class 2 fasteners are carbide solution treated and strain hardened. The work hardening that occurs in the manufacturing of Class 2 fasteners increases their strength. Class 2 fasteners are differentiated... Read more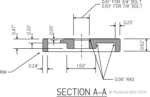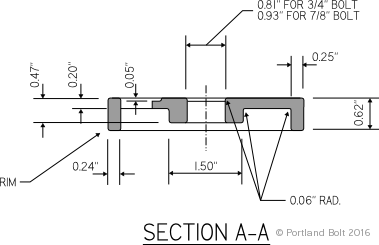 What are the physical dimensions of a shear plate?
The physical dimensions of shear plates are governed by ASTM D5933. Shear plates come in two sizes, 2-5/8" outside diameter and 4" outside diameter. In several cases, we have been asked the dimensions of everything other than the OD and bolt hole. All of those dimensions are listed in the diagrams below. If your project requires... Read more
Are ASTM F1554 Grade 55 anchor rods > 2" in diameter a 'ductile steel element' per ACI 318-05 Appendix D.1?
According to ACI 318-05 Appendix D.1, a "Ductile Steel Element" is an element with a tensile test elongation of at least 14 percent and reduction in area of at least 30 percent. The minimum elongation percentage for any diameter of F1554 Grade 55 anchor rod is 21%. Therefore, any diameter of Grade 55 anchor rod... Read more