Contact Us With Any Questions!
How are They Measured?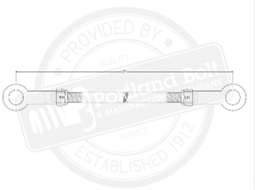 The length of a tie rod assembly is typically measured from pin to pin, which is the centerline of the pin of one clevis to the centerline of the pin of the opposing clevis. However, when you are looking to order a tie rod assembly you will need to know additional dimensions.
What information is required to get an accurate quote on a tie rod assembly?
Configuration

Does your tie rod assembly include a turnbuckle? If so, is the turnbuckle centered or positioned toward one end of the assembly? If the turnbuckle is off-center, provide the fixed rod length and we will calculate the other rod length.

Diameter

The rod diameter will determine which clevis size(s) will be compatible with your assembly.

Length

Calculate the pin-to-pin dimension.
Engineers or detailers will most likely provide an overall pin-to-pin length but sometimes dimension the individual rod lengths.
Use our tie rod calculator to determine individual rod lengths when individual rod lengths have not been detailed.
There is essentially no length limit for tie rod assemblies. Round bar is typically available in 40' lengths. Multiple turnbuckles or coupling nuts can be used for tie rod assemblies longer than 80' in length.

Pin size

Determine the size of the pin for the clevis you will need. This chart shows compatible rod and pin diameters for each size of clevis.

Finish

Do you want your tie rod assembly to be plain, galvanized, or stainless steel?Exposure to the elements will often dictate the requirement for corrosion resistance.

Quantity
Grade

What grade of steel or fastener do you want? The vast majority of tie rod assemblies are made from A36 However, some applications require a higher-strength tie rod assembly.These may require a heat-treated A668 Class D clevis and replacing the turnbuckle with a high-strength sleeve nut. Consult one of our experienced account managers for guidance with high-strength tie rod assemblies.
For more information regarding how to get these dimensions check out this FAQ on How to Order Tie Rod Assemblies?
What are tie rod assemblies and where are they used?
Tie rod assemblies are used to add strength and reinforce a structure. However, sometimes they are used purely for decorative purposes.
Some of the most common applications of tie rod assemblies are canopies and cross-bracing.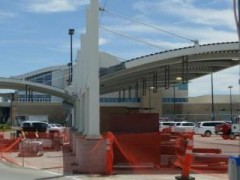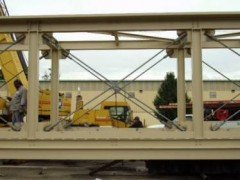 How do Tie Rod Assemblies Work?
Tie rod assemblies are tightened with the use of left-hand and right-hand threads to create the proper tension.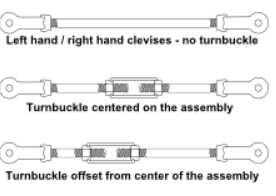 Components:
Clevis –
Clevises are used to attach the tie rod assembly to wood or structural steel columns or to an awning. The grip of the clevis slides over a gusset plate and is secured with a pin. Clevis pins can be headed, unheaded, or an A325 structural bolt.
Turnbuckle
Turnbuckles are used to make the process of tightening the tie rod assembly easier. This is typically done by sticking a wrench through the slot to turn the assembly. Turnbuckles can also be used to extend the length of a tie rod assembly.
Turnbuckles have one right-hand thread side and one left-hand thread side. Typically, both clevises when used with a turnbuckle would have right-hand threads.
Thread-each-end rod
The rod used to connect the assembly is typically a thread-each-end rod. Without a turnbuckle one side will be right-hand thread and one side would be left-hand thread. This allows the assembly to be tightened when the rod is turned. With a turnbuckle, one rod would have both right-hand threaded ends and one rod would have one right-hand and one left-hand side.
Adjustability:
Following the drawing below, the rod is to be threaded into the clevis at least the length of "N" plus ½" or half the diameter of the rod (whichever is larger). Additionally, the rod can be threaded even further in the clevis. 
If your tie rod assembly has a turnbuckle there is additional adjustability.
For additional information on the adjustability of tie rod assemblies check out this FAQ, How much adjustability does a tie rod assembly provide. 
Assembly:
Portland Bolt fully assembles tie rod assemblies before shipping them out of our facility. This is done to ensure the proper connection and threading of the different components. 
Due to the length of the majority of tie-rod assemblies and the thickness of the nut portion of the clevises and turnbuckles, threading becomes more challenging and must be tested to guarantee a good connection.  
Manufacturing
Portland Bolt manufactured tie rods in virtually any configuration, size, grade, or finish.
Cutting 
The first step to manufacturing the rods is taking 20' round bar we stock in our facility and cutting it to the correct length. If the diameter is small, we shear the rod to length. For larger diameters and extremely long lengths, they are typically cut on a band saw. 
Threading 
The rods are then threaded. Portland Bolt has the ability to cut any length of right-hand and left-hand thread on rods up to 4" in diameter.
Pointing 
After the rod has been threaded it will then be chamfered. This is done to make it easier to thread the components of the assembly together. 
Galvanizing 
If you choose to have your tie rod assembly galvanized it will then go through our hot dip galvanizing process in our facility. 
The female threads in galvanized clevis and turnbuckles are tapped oversize to accommodate for the thickness accrued from the zinc bonding to the steel. 
Written ,