Portland Bolt's 94,000 square foot manufacturing and hot-dip galvanizing facility specializes in the production of bolts and fasteners for the marine industry. A variety of nonstandard bolts are used in marine projects including berths, ferry terminals, marinas, wingwalls, fenders, wharves, and boardwalks.


Since marine fasteners are exposed to harsh environments, in addition to manufacturing hot-dip galvanized fasteners, Portland Bolt also specializes in the production of stainless steel bolts for these projects.
Common fasteners used for marine construction projects include timber bolts that have a large, low-profile head which eliminates the need for a washer under the head of the bolt. Nubs on the underside of the head bite into the wood to prevent the bolt from turning when assembling the nut.
Other bolts used in marine construction include hex bolts and lag screws. Anchor bolts are used for bollards and fenders mounted to a concrete seawall.  Split rings and shear plates add strength to wooden dock systems, while a variety of oversized washers including malleable iron washers, plate washers, and ogee washers are implemented.
Our marine construction fastener specialization goes so far that we operate a separate website that focuses on bolts and fasteners used exclusively in marine construction. Check out www.marineconstructionbolts.com for a deeper dive into the world of marine construction fasteners. Do you have any marine construction fasteners needs for an upcoming project? If so, contact Portland Bolt!
Why are the heads on my stainless steel bolts developing rust?
There are two possible causes for rust developing on stainless steel fasteners. First, oxidation can occur due to contamination from equipment that is used to make other carbon steel products. This can leave iron deposits on the surface of the stainless steel that may rust over time.
The second possibility is that the bolts were not manufactured properly. Hot forged bolts require carbide solution treatment after heading to realign the grain structure and restore the corrosion protection. When this crucial step is omitted from the manufacturing process, the bolt heads will rust.
Klawock, AK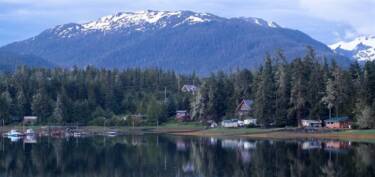 Klawock, a town with a population of less than 1,000, is located on the Prince of Wales Island in Alaska. The town plans on increasing tourism through a new cruise terminal.
In the summer of 2022, Portland Bolt manufactured the float rods and other hardware for the construction of the terminal. Portland Bolt produced over 600 ¾" diameter hot-dip galvanized float rods and other hardware for this project. Our roll threading equipment enables these rods to be manufactured extremely efficiently. Additionally, Portland Bolt performs the hot-dip galvanizing in-house. Our galvanizing line is designed specifically for threaded fasteners, which enables us to provide fast delivery times and quality galvanizing with trouble-free nut fit.
Tyler began his career with Portland Bolt in April 2022. He is from a small town near Kansas City, MO, and moved to the Portland area to be with his wife, Anna. He spends his free time hanging out with family and friends, fishing, or hiking.
Home town: Oak Grove, MO
Education: Northwest Missouri State University – Maryville, MO
BA – Geographic Information Systems with an emphasis in Geography
TV/Movies: Big Trouble in Little China, Letterkenny, Community