Contact Us With Any Questions!
What Separates Portland Bolt from Other Bolt Suppliers?
With Portland Bolt and Manufacturing Company located in the Northwestern part of the United States, you may ask yourself why Portland Bolt would be the best source for your fastener requirement versus a multitude of companies that deal in the fastener industry.
Although geographic location is a factor when choosing a fastener supplier, Portland Bolt has several unique features that distinguish it from other bolt manufacturers.
The main feature that separates Portland Bolt is our manufacturing capabilities. There aren't too many manufacturing processes that Portland Bolt does not perform in-house, whether it's hot-forging a headed bolt, hot-dip galvanizing, or even performing the necessary testing to ensure that the bolt meets the requirements of the specification.
In addition to our ability to manufacture custom construction fasteners, Portland Bolt has established relationships with reliable vendors whom we use to supply readily available fasteners or accessory items to accompany the bolts we make (nuts, washers, clevises, shear plates, etc..) so there is no need to contact multiple companies.
Portland Bolt has been in business for over 100 years and has a team of experienced estimators and production personnel who can provide guidance and support throughout the bolt manufacturing process. The following are some of the capabilities that Portland Bolt possesses that separate us from the rest.
Manufacturing Capabilities:
Steel – Portland Bolt inventories approximately 1.3 million pounds of steel. This includes 23 diameters and 12 different grades of round bar to be made to your specific bolt requirements. The raw material is located in our facility in Portland, Oregon, which gives us the ability to manufacture the product within the lead time you request and deliver on schedule without the risk of raw material delays from a steel mill or service center.
Cutting – The first step in the manufacturing process is cutting the steel to length. Raw material, in the form of a round bar, is either saw-cut or sheared. Portland Bolt can shear material up to 2″ in diameter and our saws can cut any diameter specified.
Threading – Portland Bolt can thread fasteners in one of two ways, cut threading or roll threading. Roll threading is an extrusion process in which the steel round bar is forced between two dies to form the threaded portion of a fastener, instead of being removed. Cut threading is a process by which steel is cut away from the steel to form the threads. Portland Bolt can roll thread bolts up to 1″ in diameter and can cut thread up to 6″ in diameter.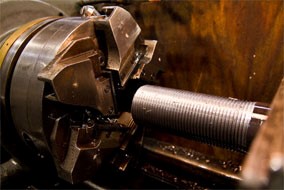 Heading – Portland Bolt uses National Upsetters to hot forge heads onto bolts. During the forging process, the end of the round bar is heated via an induction process and placed into the upsetter where a plunger compresses the heated steel to form the head of the bolt. Portland Bolt can hot forge heads up to 2-1/2″ in diameter.
Bending – Portland Bolt can bend up to a 3" diameter round bar, and we have very few limitations regarding the grade of material we can fabricate. We have six bending machines in our facility and carry a large inventory of 90-degree bent anchor bolts ready to be shipped.
Hot-Dip Galvanizing – Galvanizing threaded parts requires a specially designed galvanizing line. Portland Bolt galvanizes threaded fasteners in a 12′ long x 4′ wide x 7′ deep zinc tank. Our expertise, specialized galvanizing line, and inspection processes ensure fast delivery times, clean threads, and a trouble-free nut fit.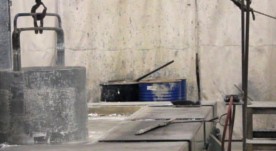 Plate Fabrication – Portland Bolt can shear and punch holes in A36 and A572 Grade 50 flat bar as thick as 3/4″. Square and rectangular plates are used as templates, splice plates, washers, or anchor plates on the bottom of anchor rods embedded in concrete.
Testing and Material Test Reports:
Before a bolt leaves our facility it must be tested to make sure that it meets the mechanical and dimensional requirements of that fastener specification. Portland Bolt has a climate-controlled facility, which performs mechanical, hardness, and rotational capacity testing.
Portland Bolt also uses tri-roll gages, ring gages, thread micrometers, and a thread comparator to ensure that our fasteners are within tolerance.
Once all of the testing has been done and we have determined that the bolt meets all of the requirements, we log in all of the data into our material test reports, which provides all of the necessary traceability and testing results. These material test reports are provided with no additional request or fee.
Industry Knowledge:
Portland Bolt has been manufacturing custom fasteners for the construction industry since 1912.
In that time, you can imagine that we have supplied customers in just about every construction-related industry imaginable. Portland Bolt manufactures timber bolts and dock rods for the marine industry, large custom anchor bolts for light poles and overhead sign structures, barrier connecting and stabilization pins for precast concrete barriers used by highway contractors, pole line hardware used with wooden cross arms in the pole line industry, and just about any configuration of anchor bolt imaginable used by steel fabricators all over the country.
These are just a few examples, but it is guaranteed that Portland Bolt has serviced just about every industry in some fashion.
The sales and estimating team alone has a combined experience of almost 100 years. The experience and expertise are spread across estimators ranging from 20+ years of service to newly joining the team.
This doesn't include the years of experience on the production side, our certification team, and upper management who have been a part of the Portland Bolt team for as long, if not longer. This means that no matter what question, product requirement, or job site emergency you may be facing, there will always be someone at Portland Bolt who can assist.
In summary, Portland Bolt's combination of quality, customization, speed, industry knowledge, and customer service has made us the best choice for customers nationally and internationally. Portland Bolt has shipped custom fasteners to numerous countries across the globe, so geographical location has never been an issue.
Portland Bolt has been manufacturing custom fasteners since 1912, so if you need a supplier whom you can trust to get the right product to you when you need it, Portland Bolt is the right choice to make.
Written ,