Newest FAQs
Are roll threaded anchor bolts with a reduced body allowed on school projects in California?
Contrary to popular belief, roll threaded anchor bolts are acceptable for schools in California when connecting steel to concrete. Portland bolt spent three years working with the California Department of General Services Division of the State Architect to dispel the rumor that only full body cut threaded bolts could be used. The link at the... Read more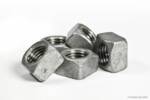 Can I use black (plain finish) or zinc plated nuts on galvanized bolts?
No. Hot-dip galvanized nuts need to be used with hot-dip galvanized bolts since galvanized nuts are tapped oversize to accommodate for the extra 2 – 6 mils (.002 – .006) of zinc that is added to the threads of the bolt during the galvanizing process. A common misconception is that bolts that are going to... Read more