How is a bolt head formed?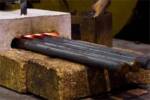 What many people do not realize is that the head of a bolt is formed by heating the end of a piece of steel round bar and then forging (reshaping) the heated end into a head. The head is not welded on or otherwise "attached" to the end of the round bar.
For example, the production of a 1" diameter X 12" long A325 bolt begins by cutting a 20' length of 1045 steel round bar into 13-11/16" pieces. Since the finished bolt length of 12" is measured from the end of the bolt to the underside of the head, we must add 1-11/16" to the cut length of the bolt. After cutting the bolt to length, this added material (1-11/16") is heated to approximately 2000 degrees Fahrenheit and forged into whatever head style the specific bolt requires. In the case of an A325 bolt, the head style is a heavy hex structural bolt. After the head is forged, an A325 bolt undergoes a heat treating process in which the bolts are quenched and tempered to develop the high strength mechanical properties required by the specification. The next step in the process is to test the bolts to ensure that they meet the strength requirements of the A325 specification. Portland Bolt performs this mechanical testing in-house. After verification that the A325 bolts comply with the strength requirements of the specification, they are threaded with 1-3/4" of 8 pitch Unified National Coarse thread. If the final product is to be hot-dip galvanized, Portland Bolt also performs this process in-house.
Written ,