Nuts FAQs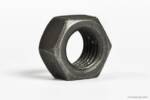 What is the difference between a standard hex nut and a heavy hex nut?
A standard hex nut, also referred to as a finished hex nut, has a smaller width across the flats and corners compared to a heavy hex nut, and a heavy hex nut is slightly thicker than a standard hex nut of the same nominal size. In fact, heavy hex nuts are exactly a 1/8" larger... Read more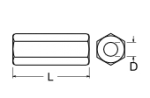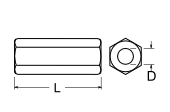 Can coupling nuts be made in custom lengths?
Hex and heavy hex coupling nuts can be made in custom lengths. Depending on the size and grade, however, there may be an extended lead time associated with doing that. Off-the-shelf coupling nut lengths have fairly few options for a given diameter. As long as the coupling nut is long enough to achieve the desired thread... Read more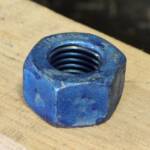 Why are some hex nuts blue in color?
It is often asked why some high strength hex nuts that are supplied with high strength bolts appear to be blue or some other color. This is normally the case with galvanized, high strength, heavy hex nuts and the reason for this is because of the wax lubricant applied to the nuts. According to the... Read more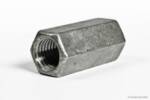 What is the load rating for a coupling nut or sleeve nut?
There are no documented standards for load ratings of coupling nuts or sleeve nuts. These types of connections are not specified for any uses for which load rating would be required. If a connection is used to suspend or tension a load, which is achieved with products like tie-rod assemblies, then the connection products have... Read more
What grades of nuts are weldable?
There are many grades of nuts available in the marketplace, from your "run of the mill" nuts like you'd find at a hardware store, to specialized high strength structural nuts. These nuts are made from different materials and get their strength in different ways. Low strength nuts are made from a variety of materials and... Read more
Can an A563 Grade DH high strength heavy hex nut be substituted for a lower strength A563 Grade A hex nut?
Yes. According to ASTM A563, the specification covering carbon and alloy steel nuts, the supplier may supply any higher strength nut at anytime, but the supplier must give notice to the purchaser that the substitution is being made. The supplier cannot supply a nut that is prohibited by the inquiry and resulting purchase order. "1.2... Read more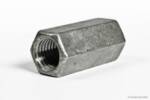 What grade of coupling nut should I use?
A common question that we encounter has to do with what type of coupling nut should be used in conjunction with a particular grade of bolt or rod. Typically, a coupling nut would be specified as a grade of nut, as opposed to a grade of bolt. The ASTM grade of hex nut that is... Read more
Can an A194 grade 2H nut be substituted for an A563 grade DH nut? If so, does it work the other way around... Can an A563 grade DH nut be substituted for an A194 grade 2H nut?
Both ASTM A194 Grade 2H nuts and ASTM A563 grade DH nuts are high strength nuts that undergo a heat treating process required to develop their strength characteristics. However, they are not necessarily interchangeable. An A194 Grade 2H nut can always be substituted for an A563 Grade DH nut. In fact, the ASTM A563 nut... Read more