Nuts FAQs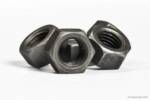 Can stainless steel nuts be used with galvanized bolts?
The use of stainless nuts with galvanized bolts is not advisable. Portland Bolt has fielded requests for galvanized bolts that have a stainless nut and washer as the hardware. Ideally, you would use a galvanized nuts and washers with a galvanized bolts and stainless bolts with stainless nuts and washers. Both types of nuts and... Read more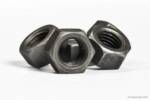 What is the difference between F594 and A194 nuts?
For this FAQ, we are focusing on the 304/316 alloys and their common, default strength conditions. Within both F594 and A194, there are many less common, exotic grades and multiple strength conditions. Exploring all possible permutations of all grades would be unnecessarily complicated. For more details, the actual ASTM standards can be purchased from ASTM,... Read more
Why are my stainless steel nuts rusting?
Stainless steel fasteners are often used in highly corrosive environments. When stainless nuts begin to rust, this can occur when hot forged nuts that are manufactured only to a material grade such as 18-8, SS304, and SS316 or to the ASTM A194 Grade 8 or 8M specifications. None of these steel grades or nut specifications... Read more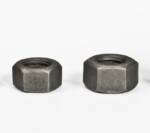 Do different grades of nuts have different dimensions?
The grade of the nut does not have any implicit bearing on the physical dimensions. For example, an ASTM A563 Grade DH heavy hex nut will be the exact same dimensions as an ASTM A194 Grade 2H heavy hex nut and an A563 Grade A finished hex nut will have the same dimensions as an... Read more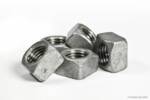 Are high strength square nuts readily available?
Most square nuts in the marketplace are made from low or medium carbon steel and are typically used with square head bolts. Their strength is not compatible with high strength bolts.  These nuts are readily available in plain finish and hot-dip galvanized and are typically mass produced overseas. If you are looking for high strength... Read more
Do A193 Grade B8 Class 2 bolts require a class 2 nut?
ASTM A193 Grades B8 and B8M Class 2 are grades of stainless steel bolts that are strain hardened and therefore have higher yield and tensile strengths than A193 Grades B8 and B8M Class 1 bolts. However, the ASTM A193 specification does not indicate a nut requirement used with Class 2 bolts, other than simply A194... Read more
What is the difference between hex and heavy hex jam nuts?
A jam nut is a thin nut primarily used as a locking device, run up against a full-height nut that has been tightened into place to prevent that primary nut from loosening.  Jam nuts are not used as structural parts and are commonly not manufactured to meet any specific nut specification since their primary function... Read more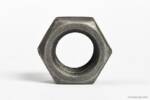 Are A563 Grade A standard hex nuts available larger than 1½" diameter?
No. According to the specification, A563 Grade A hex nuts, sometimes referred to as finished hex nuts, stop at 1-1/2" diameter. A563 Grade A nuts are only available larger than 1-1/2" diameter in a heavy hex pattern. Portland Bolt stocks both import and domestic A563 Grade A standard hex and heavy hex nuts.
Are Portland Bolt's stock coupling nuts tapped from one end or from each end?
Portland Bolt's stock ungraded coupling nuts are tapped all the way through from one end, while our high strength and custom manufactured coupling nuts are tapped from both ends. What does this mean for your project? Coupling nuts are typically intended to connect two separate threaded fasteners together, although some applications require the coupling nut... Read more
What is the Difference between ASTM A194 Grades 2H and 2HM Nuts?
A194 2H nuts are a common high strength nut used with many different bolt grades, including A193 Grade B7, A325, A490, F1554 Grade 105 and others. Occasionally Portland Bolt will be asked to provide A194 Grade 2HM nuts, most often with A193 Grade B7M. In many grades an 'M' refers to metric, which is not... Read more