Can stainless steel nuts be used with galvanized bolts?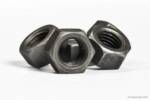 The use of stainless nuts with galvanized bolts is not advisable. Portland Bolt has fielded requests for galvanized bolts that have a stainless nut and washer as the hardware. Ideally, you would use a galvanized nuts and washers with a galvanized bolts and stainless bolts with stainless nuts and washers. Both types of nuts and washers are readily available, and if there is an issue, there are normally always better solutions than using dissimilar materials.
The first issue that comes up is the thickness that galvanizing adds to the bolt. If you were to ever try to use a black nut with a galvanized bolt you will find that they don't fit. The same is true with stainless nuts. That is because galvanized nuts are tapped oversized after they are galvanized to accommodate the extra thickness of zinc on the threads of the bolt. For stainless steel nuts to fit on galvanized bolts, the stainless nuts would need to be tapped oversize.
The second issue that comes up is galvanic corrosion. This is also sometimes called bimetallic corrosion or dissimilar metal corrosion. Galvanic corrosion occurs when two different metals are in contact in a corrosive environment. One of the metals could cause the other to prematurely corrode at an accelerated pace which would put the bolts in a compromised state.
If the issue mentioned in this FAQ is specified on your project, consult with the Engineer of Record or a metallurgist for special procedures or guidelines.
Portland bolt has our own in-house galvanizing line and can make both stainless and galvanized bolts and pair them with the appropriate corresponding nuts and washers. If you ever need a quote on anything or have any questions please don't hesitate to call.
Written ,