Manufacturing FAQs
Can Portland Bolt manufacture a 1" x 6" fully threaded A325 heavy hex structural bolt?
Bolts manufactured to the ASTM A325 specification have a fixed thread length for a given diameter, which is often shorter than other grades of bolts. For example, a 3/4″ diameter A325 has 1-3/8″ of thread and a 1″ A325 has 1-3/4″ of thread, regardless of the overall length of the bolt. Our structural bolts product... Read more
I need to buy some non-standard size u-bolts. Do you have any guidelines that will help me with ordering the u-bolts I need from Portland Bolt?
Portland Bolt can manufacture custom u-bolts that are made from 1/2" diameter and larger steel. So as long as the u-bolts you need are 1/2" in diameter or larger, we can most likely manufacture them, within the capabilities of our bending equipment and the limitations of the steel itself. To better understand what can be... Read more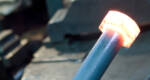 How is a bolt head formed?
What many people do not realize is that the head of a bolt is formed by heating the end of a piece of steel round bar and then forging (reshaping) the heated end into a head. The head is not welded on or otherwise "attached" to the end of the round bar. For example, the... Read more