Bolt Industry FAQs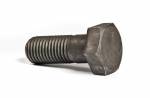 Are 9/16" diameter F3125 Grades A325 and A490 structural bolts readily available?
No. The specification moves up in 1/8" increments starting at ½" diameter and maxing out at 1-1/2". Under the old A325 – 09 specification, there was a reference about oversize limits on bolts and listed 9/16" diameter as a size. Since A325 bolts have been reclassified under the new F3125 specification, there is no longer... Read more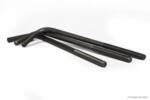 What is a "Black" Bolt?
The vast majority of bolts that Portland Bolt provides are either hot-dip galvanized or plain steel with no coating. In the construction fasteners industry, we typically refer to the plain steel as "black." On our quotes and orders at Portland Bolt, we abbreviate that to "blk". Other companies may refer to bolts with no coating... Read more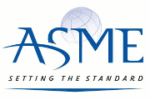 Which standard defines dimensions for bolts, nuts, and washers?
The organization that is responsible for addressing dimensional guidelines and tolerances for fasteners is the American Society of Mechanical Engineers (ASME). This organization was founded in 1880 and now has over 130,000 members in 151 countries. In addition to being a standards organization, ASME is also involved in research and development, training and professional development,... Read more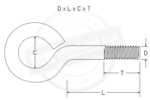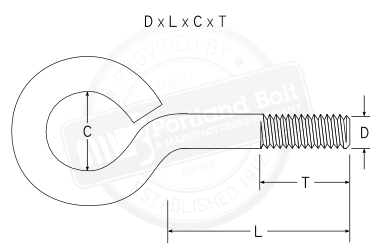 What Dimensional Specification Covers Bent Bolts?
ASME, a global standards organization, provides dimensional guidelines and dimensional tolerances for a wide variety of fasteners and related items. Bent bolts, such as 90-degree bend anchor bolts, U-bolts, and eye bolts, fall under ASME B18.31.5. ASME B18.31.5 provides information regarding tolerances and quality, and their drawings also indicate where the bolts should be measured... Read more
What do you call the unthreaded shank of a bolt?
The unthreaded portion of a headed bolt is called the grip. The length of all headed bolts (except countersunk head bolts) are measured from underneath the head to the end of the threads. The overall bolt length is made up of thread length plus grip length.
What is a "CMTR"?
The acronym CMTR stands for, "Certified Mill Test Report" or "Certified Material Test Reports."  As a manufacturer, it is imperative that we are using the correct raw material when manufacturing a given part, whether it is a bolt or fabricated steel plate.  A CMTR is provided by the raw material producer (mill), which is a... Read more
What are the strength and yield values for stainless steel bolts?
Typically when bolts are ordered, they are called out by a specific ASTM or SAE grade. Stainless steel bolts are a bit different though, as they are commercially available and regularly ordered simply by the material itself, most commonly 316 or 304 stainless steel. Unlike bolts that fall under ASTM specifications, there are no specific... Read more
What is the RCSC?
RCSC is the Research Council on Structural Connections. It is a non-profit, volunteer organization, comprised of over 85 leading experts in the fields of structural steel connection design, engineering, fabrication, erection and bolting. Its goal is to support research and gain knowledge to publish standards in structural steel connections.
Are heavy square head bolts and heavy square nuts available?
According to ASME, a global standards organization which provides manufacturers with guidelines and tolerances for producing parts, there are no listed dimensions to manufacture heavy square head bolts. However, ASME does provide dimensions for heavy square nuts. ASME B18.2.1 This standard covers the dimensional requirements for nine product types of inch series bolts and screws... Read more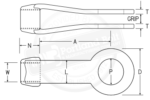 Why are clevises called out by a number?
Clevises are a component of tie rod assemblies that rods thread into. Unlike most other female threaded components such as nuts or turnbuckles, calling out a clevis size by the diameter of rod being threaded into it is not the correct way to reference it. Clevises are called out by a number, ranging from a... Read more