Can F436 Hardened Washers Be Paired With A307 Hex Bolts?
The ASTM A307 specification does not provide any washer recommendations to go with fasteners specified to A307 grades A or B. Most commonly, a simple F844 flat washer is used with A307 fasteners. F844 washers have a larger outside diameter than F436 hardened washers. Since the A307 specification doesn't recommend what to use, any washer can be used with this grade of bolt without issue. Because of this, F436 washers are perfectly acceptable to use with A307 hex bolts.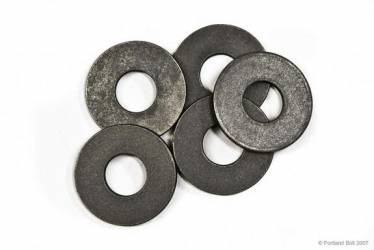 One consideration when selecting a washer is the application in which the A307 fasteners will be used. When used in wood construction, the larger outside diameter of an F844 USS pattern cut washer may be desirable. On the other hand, when used to bolt steel or flanged connections, the smaller F436 washer may be adequate. The appropriate washer should be identified in the plans and specifications for your project.
Portland Bolt carries a wide variety of A307 fasteners in import and domestic materials, along with specializing in manufacturing custom sizes and styles. If you need a quote or have additional questions call Portland Bolt. Our team of estimators is standing by to help you with all your fastener needs.
Related FAQs and Information:
Written