Application FAQs

How much adjustability does a tie rod assembly provide?
When Portland Bolt calculates the length of the rods in a tie rod using the pin-to-pin length of the assembly, we assume that the rods will be threaded into the clevises the full length of the female threaded nut component (Dimension 'N' in the drawing below) plus an additional length equal to ½" or half... Read more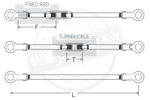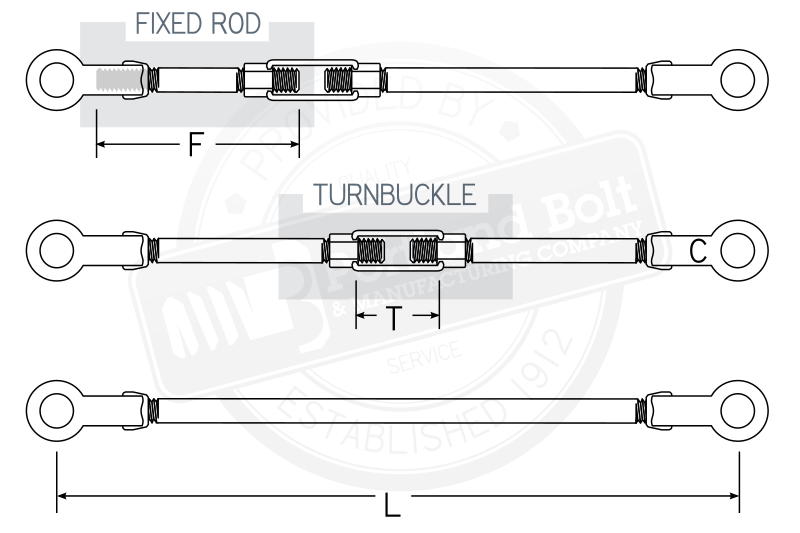 Can I use all thread rod for tie rod assemblies?
Yes and No. Traditionally, tie rod assemblies are used with thread each end rods and two clevises. They are designed to have a left-hand threaded end within the assembly in order to draw it tight. All thread rod possesses continuous right-hand thread from one end of the rod to the other. Here are the ways... Read more
What would you regard as snug tight?
Snug tight is defined by the AISC/RCSC as when all the plies in a connection have been pulled into firm contact by the bolts in the joint, and the bolts have been tightened sufficiently to prevent removal of the nuts without a wrench. They go onto say that this is typically achieved by a few... Read more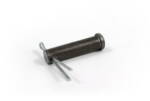 What options are available for different configurations of clevis pins?
A tie rod assembly, used to brace steel columns, large timbers or canopies, often comes with clevises which are attached to mounting plates by a pin. These pins typically come in three configurations: headed pins with cotters, straight pins with cotters, and A325 structural bolts with a nut. Headed or 'vertical' pins possess a small... Read more
Can I tighten A325 and A490 structural bolts by turning the head of the bolt?
Yes. Per the RCSC Specification for Structural Joints Using High-Strength Bolts (2014), section 8.2, it says: "When it is impractical to turn the nut, pretensioning by turning the bolt head is permitted while the rotation of the nut is prevented, provided that the washer requirements in Section 6.2 are met"
Can I use a full size nut as a leveling nut?
In most situations you can. A leveling nut is a term that refers to the application of the nut rather than the physical dimensions of the nut. Many times they are called out as "jam" or "half" nuts because they can be cheaper, do not need to provide structural value, and are just used for leveling purposes. ... Read more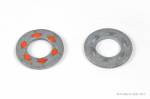 Can A325 Load Indicating Washers be used with A490 structural bolts?
Load indicating washers are used to indicate the achievement of a specified minimum bolt tension. The ASTM specification covering load indicating washers is F959 and has two different types; 325 (type 1 and type 3) and 490 (type 1 and type 3). When used, the washer is typically placed beneath the head of the bolt. As the... Read more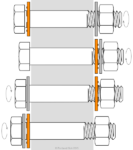 I am installing some A325 bolts, and I am using direct-tension-indicator (DTI) washers. Does the DTI replace the F436 washer that I would normally use, or do I still use a standard F436 washer?
According to the Research Council on Structural Connections (RCSC December 31, 2009 edition), an F436 washer is used in addition to a DTI washer with an A325 structural bolt.  RCSC's Specification for Structural Joints Using ASTM A325 or A490 Bolts, Section 6 Use of Washers, states that a ASTM F436 washer is always used, but... Read more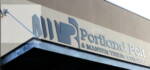 How do tie rods attach to a structure?
Tie rods are attached by sliding a gusset plate or knife plate, which is fastened to a structure, in between the ears of a clevis. A clevis pin or A325 structural bolt, is then assembled through the pin holes on the clevis and through the hole in the plate. Gusset plates are attached to the... Read more


What is the proper tension for an anchor bolt, headed bolt, stainless steel bolt or bent bolt?
Only structural steel bolts have an associated tension recommendation. The desired tension on a structural bolt is achieved by using a calibrated torque wrench and a Skidmore-Wilhelm load indicating device to tighten the nut with torque indicated by a verified bolt torque chart. ASTM does not have any recommendations in place for the proper tension... Read more