Tag Archives: Anchor Bolts
I was told that I cannot use A615 grade anchor bolts because they are not listed in the approved anchor bolt section in the AISC manual. Is there a specification that addresses the use of A615 grade anchor bolts?
There is no mention of any ASTM A615 grade being specifically used for anchor bolts in any ACI, AISC or ASTM specifications that we are aware of. Simply, the A615 grade is a rebar specification for concrete reinforcement; it is not an anchor bolt or raw steel specification. Using rebar for anchor bolts does present... Read more
Is A193 Grade B7 a valid specification for anchor bolts?
While there is certainly nothing to preclude ASTM A193 B7 from being specified for anchor bolts – and Portland Bolt manufactures them quite often – the specification is not intended for anchor bolt use. ASTM F1554 Grade 105 is a specification specifically developed for anchor bolts and possesses virtually identical chemical and physical properties. ASTM... Read more
What do I do if I poured my anchor bolts in the wrong position?
This is a common problem, and one that can be very difficult to remedy once the concrete is cured. As with most job-site fixes, the repair method depends on the nature of the problem and when in the construction process it is first noted. The repair method may be different if one bolt is out... Read more
What do I do if I poured my anchor bolts too low or too high?
The answer can be found in AISC Design Guide 1,Section 2.11.3: "Anchor rod projections that are too short or too long must be investigated to determine if the correct anchor rods were installed. If the anchor rod is too short, the anchor rod may be projecting below the foundation. If the rod projection is too long,... Read more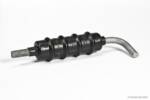 What size anchor bolt sleeve do I use to fit a 1-1/8" diameter anchor bolt?
This question is often brought to Portland Bolt's attention by customers wondering how to install an anchor bolt sleeve with a 1-1/8" diameter rod.  This issue arises due to the fact that anchor bolt sleeves are not manufactured in 1-1/8" diameter. We knew of two different solutions, but were left wondering which was the preferred... Read more
What are the tolerances for F1554 anchor bolts?
In our Live Chat, numerous customers have asked us about tolerances under the F1554 specification relating to things like diameter, length, straightness, and many other parameters. While a customer always has the option of specifying a particular set of tolerances they may require for any bolt, what are the default tolerances for anchor bolts under... Read more
Do F1554 anchor bolts come in stainless steel?
The answer to this question is no. As stated in Section 1.1, the F1554 specification covers various configurations of, "…carbon, carbon boron, alloy, or high-strength alloy steel anchor bolts." In general terms, for a steel to be considered "stainless" it must contain at least 10.5% chromium as part of its chemical composition and will often... Read more
If my already installed anchor bolts got bent by accident, is it OK to bend them back?
The anchor rods in this photo were damaged because they were covered with snow and the equipment operator did not see them. Every situation is different, and we try to not make recommendations where bent anchors are concerned as we feel it is a question better answered by the project engineer, as he/she will be... Read more
Do headed F1554 anchor bolts have a standard hex head or a heavy hex head?
ASTM F1554 does not specify whether the headed configuration is to be a standard hex pattern or heavy hex. There are three primary configurations covered by the ASTM F1554 specification which include straight rods, bent anchor bolts, and forged headed anchor bolts. Whether or not a headed anchor has a standard hex head or a heavy hex head can differ depending on the application. Since the... Read more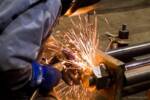 Can welding be performed on high strength anchor bolts and fasteners?
The short answer is that in most cases, welding high strength bolts is not allowed. In the fastener industry, the term "high strength" typically refers to any medium carbon or alloy steel which undergoes a heat-treating process to develop the strength properties necessary to meet the requirements of a given specification. These ASTM specifications include... Read more

Will imported A307 grade A hex bolts meet the requirements of F1554 grade 36?
Anchor bolts which are embedded in concrete and used for structural anchorage purposes can assume several forms. Common forms of anchor bolts include right angle bend anchor bolts, swedged rods, and threaded rods (typically with a nut and/or square plate attached to the bottom of the rod). Another common configuration for an anchor bolt is... Read more
Can a threaded rod with a welded nut be substituted for a bolt with a forged head?
When a threaded rod with a nut is substituted for a bolt with a forged head, two issues come into play. When in-house mechanical testing was performed by Portland Bolt on headed bolts versus rods with a nut, both from the identical lots of steel, the rod with a nut developed up to 12% less... Read more