Category Archives: Manufacturing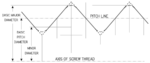 What is the meaning of thread pitch, major diameter, minor diameter, crest, root, flanks, angle, and run-out in the context of external thread?
Portland Bolt forms threads using two methods: cut threading and roll threading. Cut threading is a process that removes steel to form the threads. The roll threading method we utilize starts with reduced body pitch diameter steel. To make a one inch bolt we would use .912 inch round bar. This steel is forced between... Read more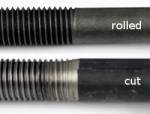 Do Bolts with Rolled Threads have a Full Body Diameter or a Reduced Body Diameter?
When threading bolts, the two most commonly used methods are cut threading and roll threading. We are often asked if bolts which have been roll threaded have a full body diameter or a reduced body diameter. Depending on the type of fastener, the answer is both. When Portland Bolt produces bolts with rolled threads, we... Read more
What is "lead time"?
lead time  |  Noun /ˈliːdˌtaɪm/ The time between the initiation and completion of a production process. A common question our estimators field from prospective customers is, "What is your lead time?" Before we answer this question, let's first address the term "lead time." The dictionary defines a lead time as the time interval between the... Read more
What end types are available for bolts and rods?
You can watch a video covering four of these point types: the chamfer, semi-cone, chisel, and 45-degree angle cut. Saw cut end When a large diameter or small quantity of bolts is required, Portland Bolt will saw cut the steel round bar to create the cut lengths for the finished fastener. A saw cut end... Read more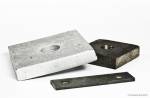 How large should I oversize my plate holes?
Square plates, rectangular plates, round plates, and templates are often required as part of an anchor bolt or fastener assembly. These plates serve as either large, oversized washers or anchor plates which are fastened to the bottom of anchor rods to provide pull-out resistance. Plates and washers are typically manufactured to ASTM A36, A572 grade 50,... Read more
What are the liability issues involved in substituting one fastener grade or configuration for another?
Have you ever had a fastener company try to talk you into substituting A193 grade B7 all thread rod for F1554 grade 55 anchor rods, claiming it's "better"? Have you allowed them to substitute an all thread rod with a nut tack welded in lieu of a headed bolt? These are scenarios that come up... Read more
Can a threaded rod with a welded nut be substituted for a bolt with a forged head?
When a threaded rod with a nut is substituted for a bolt with a forged head, two issues come into play. When in-house mechanical testing was performed by Portland Bolt on headed bolts versus rods with a nut, both from the identical lots of steel, the rod with a nut developed up to 12% less... Read more
Can Portland Bolt manufacture a 1" x 6" fully threaded A325 heavy hex structural bolt?
Bolts manufactured to the ASTM A325 specification have a fixed thread length for a given diameter, which is often shorter than other grades of bolts. For example, a 3/4″ diameter A325 has 1-3/8″ of thread and a 1″ A325 has 1-3/4″ of thread, regardless of the overall length of the bolt. Our structural bolts product... Read more
I need to buy some non-standard size u-bolts. Do you have any guidelines that will help me with ordering the u-bolts I need from Portland Bolt?
Portland Bolt can manufacture custom u-bolts that are made from 1/2" diameter and larger steel. So as long as the u-bolts you need are 1/2" in diameter or larger, we can most likely manufacture them, within the capabilities of our bending equipment and the limitations of the steel itself. To better understand what can be... Read more
What are the differences between a hex cap screw and a hex bolt?
These terms are often incorrectly used interchangeably. The most basic difference between a cap screw and a bolt is the way in which these fasteners are installed. Technically, a bolt is installed by turning a nut to tighten the fastener, while a cap screw in installed by turning the head of the bolt to assemble... Read more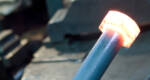 How is a bolt head formed?
What many people do not realize is that the head of a bolt is formed by heating the end of a piece of steel round bar and then forging (reshaping) the heated end into a head. The head is not welded on or otherwise "attached" to the end of the round bar. For example, the... Read more