Is it possible to put threads on rebar?
The answer is yes, however, there are several issues to consider to avoid liability. For this discussion, we will assume a requirement for threaded rebar as follows:
#8 x 48″ long A615 grade 60 rebar with 8″ thread one end.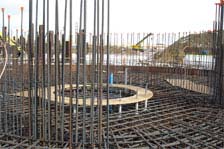 What is rebar?
Rebar is short for "reinforcing bar" and often used in concrete foundations to strengthen the concrete. It is held in place by systematic ridges or deformations in its surface that allow the concrete to "grip" the bar better than plain round bar. These deformations are a great asset in the masonry applications, but hinder the usefulness of rebar as a threaded fastener.
Rebar gauges (diameter of the bar) are measured in eighths of an inch. For example, #8 rebar is essentially 1″ diameter (8 x 1/8″ = 8/8″ or 1″).
Cut Threading Rebar

Why can't you just put threads on rebar?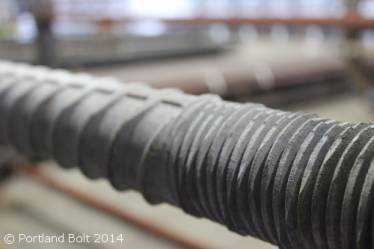 Rebar cannot simply be cut threaded to the nominal diameter. This is due to the diameter difference between the major diameter of UNC threads and the diameter inside the deformations. The diameter inside the deformations is less than the minimum allowable major thread diameter. This will lead to incomplete threads and the liability that comes with product not meeting dimensional tolerances. As an example, the diameter on #8 rebar between the deformations is .960 and the minimum allowed major diameter on 1″ threads is .9755.

How to properly cut thread rebar
The only way to correctly thread rebar is by turning down, or milling the end of the rod so that it is the proper size and shape to be threaded. This is done by removing the outer layer of the bar until the diameter is equal to the deepest deformation on the bar, leaving a smooth surface to thread. The smaller diameter of the threaded portion means that a larger size of rebar will have to be used and turned down in order to have threads that are the correct nominal diameter. If we go back to our example rebar above, we would need to use #9 rebar, instead of #8 in order to have proper 1″ UNC threads.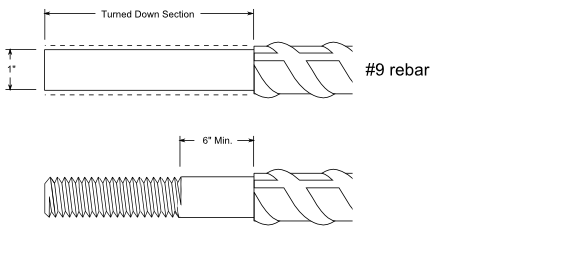 Things to keep in mind when ordering threaded rebar
In cases where plans call for threaded rebar, it is essential that the engineer or detailer specify the diameter of thread needed on the bar, since cut threading a #8 rebar will not result in a complete 1″ UNC thread. When thread type is not specified or ambiguous, Portland Bolt makes the assumption that the design requires a 1″ thread and when cut threading, will use a #10 bar to produce a fully functional 1″ – 8 threads per inch Unified National Coarse thread as opposed to cut threading a #8 bar which results in a 3/4″ – 10 thread per inch finished product.
Roll Threading Rebar
As opposed to cut threading, the threads on rebar can also be produced through a roll threading process. For the differences and limitations of roll threading versus cut threading, refer to our FAQ discussing roll threading versus cut threading. Keep in mind that roll threading equipment is limited in the marketplace and many companies that produce threaded rebar will not have the equipment available to roll threads. Most machine shops and smaller scale bolt manufacturing companies only have equipment that is capable of cut threading.
Unlike the cut thread example above, rebar can be turned to the pitch diameter (.912″ in our example using #8 rebar) and rolled back up to produce a fully functional, dimensionally correct 1″- 8 UNC thread. Since some roll threading equipment has diameter and length limitations, rolling threads on rebar is sometimes not possible. Again, the thread dimension in addition to the size of the rebar should be specified.

To specify threaded rebar properly, our inquiry for this example should read as follows:
#8 (1″-8 UNC) x 48″ long A615 grade 60 rebar with 8″ thread one end.
Written ,