What is Product Liability Insurance? Which companies should have it?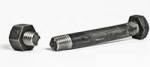 Truly an asset you may not always like paying for but one you surely cannot live without. All manufacturers, wholesalers, distributors, in fact all those involved in the "stream of commerce" should have adequate product liability insurance. Product liability insurance is an insurance policy that would provide protection against liabilities, within the policy limits, for any damages or injury resulting from the use of the insured's goods or services. Now you might find it interesting that Portland Bolt, a manufacturer of fasteners, might bring up the topic of product liability insurance. Well, truth be told, it is an asset we are excited to highlight as it not only benefits Portland Bolt, it benefits every customer of ours and every customer of theirs. We obviously do not intentionally put ourselves or our products in jeopardy of not conforming, but as life happens, so do accidents. We are well prepared to stand behind our name, our products, and our reputation for being the best custom fastener manufacturer in North America.
A 2009 Insurance Coverages Survey showed that 3% of the respondents did not carry liability insurance of any kind. However, the more startling statistic showed that 65% of respondents carried a policy with a maximum limit of $1-$2 million per occurrence. We all know how costs can add up quickly when dealing with a claim involving product failure or injury. That same study showed that only 22% of the respondents have coverage exceeding $3 million per occurrence. You should find yourself happy to know that Portland Bolt & Manufacturing Company carries a policy providing for a total of $6 million per occurrence. We carry what we believe to be more than adequate insurance, which coincidentally goes along with our motto to under promise and over deliver. There are likely several companies that have reduced and/or eliminated their coverage as a cost cutting move in these tough economic times in order to stay competitive. However, insurance coverage is not an asset you want to be short on, or without all together, if something goes wrong.
A question you may be asking yourself right now is, "Is my company protected if a problem arises?" Now would be a good time for you to make sure your business is not "left holding the bag" if something goes awry. If you have purchased a product from an uninsured or underinsured party and the product fails, your course of action will be to go after the insurance available and then the vendor itself. In some circumstances, there may not be much to go after and therefore the one covering the majority of the losses will be you. Keep in mind, some businesses may believe they do not need product liability insurance since they do not manufacture the products they sell, however all parties in the "stream of commerce" should have adequate insurance, not just the manufacturer. No company should let the irresponsibility of others end up costing them. The timeliness of this issue could not be any better as Portland Bolt just recently received word that a new OEM customer was having us provide their product going forward. The reason being is that the current supplier refused to obtain product liability insurance and the engineer of record would not allow the OEM to utilize parts supplied by an uninsured supplier. This circumstance forced the OEM to return to the marketplace to search for a bolt supplier that could not only meet the pricing, lead time, & quality needs of the OEM, but also the ability and desire to stand behind the product with the proper product liability insurance.
We make this investment in ourselves, so that our customers do not have to think twice about investing their time and money into their fastener vendor. Make sure you are confident in your vendor and if you have not provided us the opportunity to earn your business, we ask that you give us a chance to show you what we are all about.
Another way to safeguard against utilizing the insurance policy is to make sure your vendors have proper risk management techniques in place to verify the products are produced within proper specifications and inspected for quality during the manufacturing process. This becomes tougher to do when you are not buying directly from the manufacturer, but it doesn't lessen the importance. At Portland Bolt, we not only are certain that we are within all the proper specifications, our product is inspected several times throughout the process to ensure it is made right the first time. We are so confident in our process, that we welcome you to come take a look for yourself. We would be happy to show you just how your bolts are made.
Written ,