What are the purposes for the different components in malleable iron washers (MIW)
For many years a malleable iron washer has been a common component in heavy timber and marine construction. With a large bearing surface and thick cast design they help prevent the bolt head or nut from pulling through wood connections.
There are two common types of MIW. One style of malleable washer is produced in the United States, while the other is made overseas. The import option is readily available in the marketplace in sizes for bolts from 3/8″ to 1″ in diameter. It has one nail hole and two notches on the outer edge. The domestic washer is similar with two vertical slots on the outside edge, but is missing a nail hole. Both have similar inside and outside dimensions.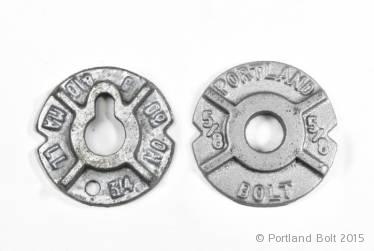 According to the original patent from 1907 the outer notches were meant to lock the washer from turning against the wood. A chisel is used to bend the metal edge into the wood. To our knowledge, this installation process is rarely used.
The keyhole is historically used to drive a nail or wedge in against the nut, to lock it into place and keep it from turning.  Here is an original patent from 1904 for a similar washer that shows a keyhole and nail being used in this way.
Over time, the features for both washers were combined into one washer with the features of both.
Written ,