Does imported stock all thread rod meet ASTM A307 grade C?
Frequently, imported mild steel all thread rod will not meet ASTM A307 grade C. The three different grades of the A307 specification identify their intended application where grade C is embedded in concrete and used for anchoring purposes, grade B is used in cast iron flange connections, and grade A covers general applications. Normally, imported all thread rod is tested and certified to meet ASTM A307 grade A and will often meet A307 grade B. However, more often than not, the test reports that accompany this threaded rod lack a Yield Strength value that is required to determine its compliance with A307 grade C. Refer to the chart below for the difference in the mechanical requirements between ASTM A307 grades A, B, and C. Although there are subtle differences in the tensile strength requirements, the primary difference between these three grades of A307 is that grade C requires a minimum yield strength of 36,000 psi while grades A and B have no requirement. Therefore, unless a test has been performed to determine the yield strength, the threaded rod cannot be certified to meet ASTM A307 grade C.
Portland Bolt provides 100% domestically manufactured all thread rod which will meet not only grades A and B of the ASTM A307 specification, but grade C as well.
A307 Mechanical Properties
| Grade | Tensile, ksi | Yield, min, ksi | Elong %, min |
| --- | --- | --- | --- |
| A | 60 min | -- | 18 |
| B | 60 - 100 | -- | 18 |
| C* | 58 - 80 | 36 | 23 |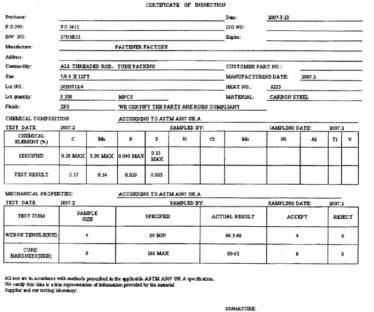 As you can see, there is no yield test performed on this import all thread rod, so it cannot be certified to ASTM A307C.
Written ,