Can I use ASTM 108 Round Bar, a CF-1018 round bar, for F1554 Grade 55?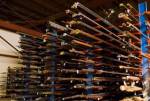 The problem with ASTM A108, 1018CF is that there are no mechanical requirements and typically the test reports that accompany this steel reflect the chemistry only and not the strength of the steel. Test reports will need to accompany this material that reflect all four of the values listed below, and these values will need to meet the requirements of the F1554 grade 55 specification. If the test reports do not reflect any or all of the required mechanical properties, a sample of the same heat of material will need to be tested by a laboratory to determine if the 1018 material meets all of the criteria.
ASTM F1554 grade 55 has the following mechanical requirements for diameters 1/4″ – 2″:
Minimum Yield: 55,000 psi
Tensile Strength: 75,000 psi – 95,000 psi
Minimum Elongation: 21%
Minimum Reduction of Area: 30%
We have found two resources that give theoretical values one could expect 1018 cold finished steel to meet but they are very different. The steel warehouse sources and theoretical values are listed below:
| Steel Supplier | Yield, min, ksi | Tensile, ksi | Elong %, min | Reduction of Area |
| --- | --- | --- | --- | --- |
| Earl M Jorgensen | 70 | 85 | 28% | 55% |
| Pacific Machinery and Tool Steel | 54 | 64 | 15% | Not Reported |
Based on theoretical values reported by Earl M Jorgensen, in theory 1018 CF should meet the requirements of F1554 grade 55, while the theoretical values reported by Pacific Machine and Tool Steel indicate that 1018 CF will not meet the mechanical requirements of F1554 grade 55. The only way to know with 100% certainty is to have the specific heat of steel tested for Yield Strength, Tensile Strength, Elongation, and Reduction of Area.
Our steel inventory includes material certified to meet all the requirements of grade 55. Most of this steel is supplied directly from North American steel mills and rolled specifically to meet the ASTM specifications.
Written ,