Can threads be chased after hot-dip galvanizing for proper nut fit?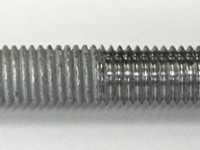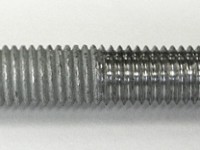 Absolutely not! Externally threaded fasteners should never be "chased". During the hot-dip galvanizing process, excess zinc has a tendency to build up in the threaded portion of a fastener. Chasing threads is a term used to describe re-cutting threads after galvanizing to remove this excess zinc that has accumulated during the galvanizing process. Chasing threads will not only remove the excess zinc but often removes much, if not all of the zinc coating and eliminates the corrosion protection on the threaded portion of the fastener. Chasing, if not performed with extreme precision, can also remove additional steel from the threaded portion of the fastener resulting in threads that are undersized and out of tolerance.
One misconception with regard to galvanized threads is that the threads are cut undersized to accommodate the extra 2-6 mils of zinc thickness that hot-dip galvanizing adds. Actually, bolts are threaded the same regardless of whether or not they will be galvanized. It is the galvanized nuts that are tapped oversize to ensure a proper fit. When galvanized bolts are chased and some or all of the zinc is removed from the threaded area, the galvanized nuts which are tapped oversize will be too loose and not generate the proper clamping force required of the connection. The tolerance for tapping galvanized nuts is covered under A563.
ASTM F2329, the specification that covers hot-dip galvanizing of fasteners, clearly prohibits chasing threads after galvanizing stating, "Fasteners that have been hot-dip galvanized shall not be further altered (such as subjected to a cutting, rolling, finishing-tool operation) by the galvanizer unless specifically authorized in writing…"
Portland Bolt's custom galvanizing system is specifically designed for threaded fasteners and uses centrifugal force to clean the threads. After parts are removed from the molten zinc they are immediately spun using a high-speed centrifuge to remove the excess zinc. This process creates high-quality galvanized threads and a trouble-free nut fit. Although some galvanizing companies do a good job of processing fasteners, the reality is that many other galvanizing companies simply do not have the specialized equipment and systems to properly galvanize fasteners. For galvanizing companies, fasteners are a hassle. Galvanizers charge their customers a price per pound and profitability for them is driven by the amount of weight they can put through their system per hour. Galvanizing companies prefer to galvanize large structures like beams, plates, and poles that are heavy, in and out of the tank quickly and don't require the high degree of quality control that threaded fasteners require. For this reason, many fastener manufacturers will be forced to "chase" the threads of fasteners after they have been hot-dip galvanized.
Ensure you are receiving galvanized bolts in which the threads have not been chased by questioning your supplier as to the methods used to clean the threads. Any form or re-cutting of the threads after they have been galvanized is simply unacceptable.
Written ,