Are you allowed to substitute F436 hard washers when F844 cut washers are called out?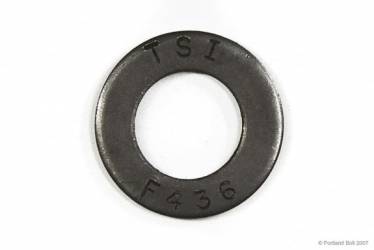 In general substituting one grade of fastener for another is a bad idea, as that substitution can open you up to liability concerns, but does this apply to washers? ASTM F844 covers standard, unhardened steel washers for general use. ASTM F436 covers hardened steel washers used with most high strength bolts and F1554 anchor bolts. F844 is pretty lenient in what it allows, in fact the only real restriction is that washers must be unhardened and made of steel. This means that strictly speaking, F436 washers shouldn't be substituted for F844, even if the hardened washer has the same physical dimensions.
Why might someone want to substitute F436 washers for F844 washers?
The most common reason is domesticity requirements. Domestic F844 washers are not readily available, so to provide washers that meet the domestic requirements of some projects F436 washers are provided, as they are readily available (and something we stock).
Less common, but worth considering is the difference in size of the two washers. F844 washers are usually dimensioned per B18.21.1 (also known as USS pattern) whereas F436 washers are dimensioned per the F436 specification (the SAE pattern matches this). Certain applications may want a smaller washer and therefore prefer the F436 washer.
If you have any questions about washers, substituting fasteners or anything else, please give one of our helpful team members a call, and we will be happy to help.
Written