Can a lag screw be manufactured to ASTM F3125 Grade A325?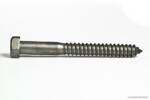 As the ASTM F3125 specification becomes more prevalent, the issue of configuration may be a source of confusion. The main reason is that in the past, ASTM A325 has been limited a heavy hex head structural bolt only, which implies a structural bolt thread length with Unified National Coarse thread. With the implementation of ASTM F3125, A325 can now have a different head style as well as extended thread as long as the head stamp reads "A325S", found under the supplementary requirement S2, "Alternate Dimensions".
So with this new supplementary requirement option, it only makes sense that an A325 lag screw can be made as long as the head is stamped "A325S", right? The answer is no. Although supplementary requirement S2 allows for deviation from the normal, off-the-shelf structural bolt configuration, ASTM F3125 Grade A325 is still a structural bolt specification and covers steel to steel connection fasteners only. Because a lag screw is used in a wood application, it is not covered under this specification. If the scenario arises where the strength of an A325 is desired, but the application is not for a steel to steel connection, A449 may be considered. However, it is important to note that A449 is not an exact equivalent to Grade A325 under the F3125 specification above 1" diameter.
Written