Does F1554 Tell Me the Configuration of the Bolt?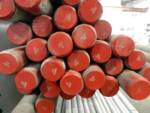 Calling out ASTM F1554 (grade 36, 55, or 105) indicates the grade of material, but the specification itself does not require a specific configuration and does not indicate whether or not the bolt is galvanized.
F1554 is a fastener specification which covers steel anchor bolts intended for anchoring structural supports to concrete foundations. The specification provides chemical compositions and mechanical properties of the material. There are no restrictions with regards to the configuration of F1554 anchor bolts. An F1554 bolt can be a headed bolt, a bent anchor bolt, an anchor rod with threads on both ends, or a fully threaded rod.
There are some limitations with regards to configuration of F1554 fasteners. Section 1.6 of ASTM F1554 states: "This specification does not cover the requirements for mechanical expansion anchors, powder-activated nails or studs, or anchor bolts fabricated from deformed bar."
All three grades of F1554 can be furnished plain, hot-dip galvanized, or other coatings as specified by the purchaser.
Written