Does Portland Bolt manufacture crane mat rods and bolts?
Yes, Portland Bolt manufactures crane mat rods.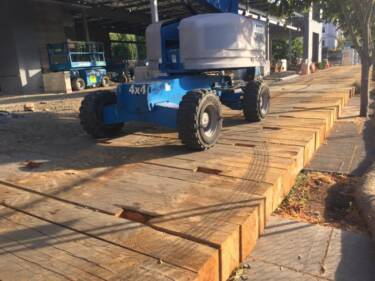 Crane mats (also known as timber mats, barge mats, road mats, swamp mats, pipeline mats, and floater mats) are wooden mats used for stabilizing machinery (often cranes) on unstable ground. They can also be used as a makeshift road, similar to a corduroy road. Crane mat rods are long threaded rods used to hold crane mats together. Mild steel (A36 made into A307 Grade A) rods are the most common, however Portland bolt is able to manufacture threaded rods in a variety of grades. We are also able to manufacture headed crane mat bolts with a hex head, a dome head (also known as a timber bolt) or any other configuration you require. Due to the temporary nature of crane mats, the rods are typically supplied in a plain finish and not hot-dip galvanized.
Crane mats are typically 8" or 12" thick, 4', 5', or 6' wide, and vary in length. Wider and thicker mats can be custom built for specific applications. Timber mats are made from oak, mixed hardwoods, or Douglas fir. In the past, Portland Bolt has provided crane mat rods as long as 1" x 78", however 1" x 48" and other common sizes are manufactured to your specifications in our 94,000 square foot manufacturing facility.
Whether you are in Alaska, Canada or somewhere else, our experienced estimators are happy to help with your crane mat rods and bolts.
Written ,