Can A563 Grade DH nuts be used with A193 Grade B7 bolts?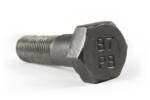 The short answer is no. The A193 specification is specifically designed for fasteners being used in high temperature, high pressure situations. In the ASTM specification, it states that the nuts shall conform to the A194 specification and it does not provide an alternate substitute. Though A563-DH and A194-2H are very similar, they are not interchangeable when it comes to A193 bolts. The A194-2H nuts require an additional test in manufacturing where the nuts are heated to specified temperatures for 24 hours, then cooled and hardness tested at room temperature. This test ensures that the nuts will perform correctly in the different applications that A193B7 bolts are required for.
Also, there is a special thread requirement with A193B7 bolts which is that bolts above 1" in diameter shall be threaded with an 8-UN thread series unless otherwise specified. The A194-2H nuts match this same thread rule but A563-DH nuts do not. If you have more questions about nut specifications, give Portland Bolt a call. Our estimators are standing by to assist you with your bolting needs.
Written ,